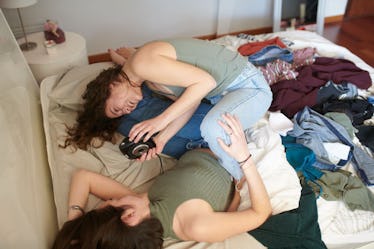 If You're Afraid Of Letting Dates See Your Messy Room, Here's How To Deal With It
Lately, I realized that I've gotten stuck in a loop of going on great dates and then not inviting people back to my place because I'm nervous about them seeing my room. Most of the time, my room has a tendency to look like the tornado from The Wizard of Oz has torn through my closet, bookcase, makeup collection, and bed. I am not entirely sure if dates care about seeing your messy room, but since it was a source of stress for me so often, I wondered if anyone else found this to be a roadblock in their dating life. It turns out, according to both a therapist and a professional organizer, that this is not only a common insecurity but also a solvable one.
I realized my problem was two-fold: I didn't want my dates knowing that my level of messiness has the strength of a tornado that can deliver Dorothy and her house to another universe and I also wanted desperately to be neater. According to Lata K. McGinn, Ph.D., and co-founder of Cognitive Behavioral Consultants and professor at Yeshiva University, the issue was not as much about my dates as it was about me. She explains that regardless of what a date might think, if something is a source of stress for you, it might be worth taking a closer look at the causes of the concern and potential solutions.
"Being worried about showing someone your messy room could just mean that you are worried about making a bad first impression and nervous that your crush will negatively evaluate you for having a messy room," says McGinn. The key to this situation is understanding that if you feel stressed and self-conscious about showing someone your messy room, you may have negative feelings about the messiness and may want to learn better ways of maintaining your organization. The good news is that this is definitely possible with a little bit of strategy, time, and care for your space.
"Many of my young adult clients struggle with organization and messiness because they have a small space where they keep almost everything they own," says Jessica Decker professional personal, founder and CEO of Become Organized. Decker and McGinn's insight helped me understand that there are a lot of culprits behind messiness and that the solutions aren't as complicated as I originally expected.