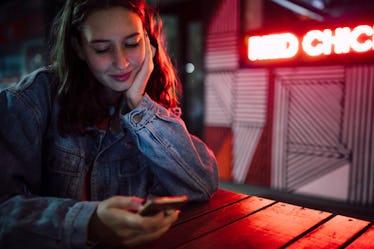 9 Tweets About Long-Distance Relationships That Will Make You Say "It Me"
Countless "I miss you's," epic late-night FaceTimes, and excitedly counting down the days until you see each other again: these are just a few of the things that couples get used to when they're in a long distance relationship. There's no doubt that LDRs come with their own unique challenges (and sometimes some serious heartache), but they can indeed work — provided both people are willing to put in the extra effort required to stay connected despite the distance.
In fact, one 2016 study in the Journal of Communication revealed that people in long-distance relationships feel emotionally closer to their partners than people who live in the same geographic region. Long-distance couples also reported sharing more with their SOs, and feeling like their partners were really listening to them. Meanwhile, 2013 research conducted at the Queen's University found that the further apart the couple was, the better they were doing in regards to satisfaction, intimacy, and communication. (Take that, LDR skeptics.)
These days, LDR couples are fortunate enough to have Skype, Snapchat, Facetime, WhatsApp, and a range of other tools at their fingertips to stay connected. And as it turns out, science says that long distance relationships can be just as healthy and satisfying (if not more so) as relationships in which there's no distance involved. But that doesn't mean it isn't brutal to live far away from bae. Whether you're in a long distance relationship, you've tried one in the past, or you're about to embark on one, these tweets should sound familiar AF.