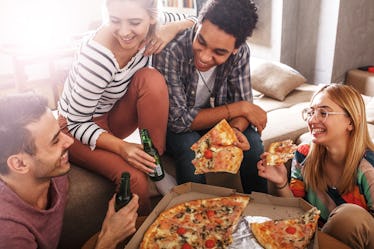 5 Ways To Feel Less Awk When You're The Only Single Person In A Group
Shutterstock
Third-wheeling is tough enough. But feeling like a fifth or seventh wheel? Well, that's a whole different world of awk. Newsflash: it's OK if being around all couples makes you feel a tad weird. Regardless of how secure you are in your relationship status, that's totally understandable. Fortunately, if you're the only single person in a group, there are ways to feel more comfortable.
According to Pricilla Martinez, CEO of Regroop Online Life Coaching, it's natural if being the only single person in a group makes you feel left out — especially if you're resentful or insecure that you don't have a partner.
"It can be downright painful to be reminded that relationships are happening to other people," she tells Elite Daily. "You can't help question why a relationship is not happening to you."
And even if you're totally comfortable with the fact that you're not in a relationship, it's still normal to feel awkward.
"Maybe you feel like you're interrupting their conversation," says Martinez. "Maybe you can't relate to some of the relationship things they're currently up to. You feel surrounded by people who have something in common that you don't."
The good news is that you do have the power to make these scenarios more enjoyable for yourself. Here are some expert-approved tips to get you started.