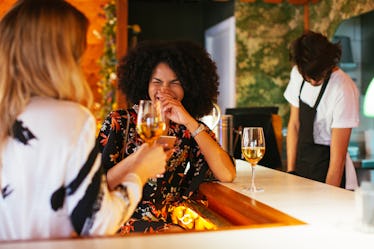 These 4 Zodiac Signs Make The Best Wing Women, So Plan A Night Out ASAP
There are thousands of ways to be a good friend. Maybe you make the best birthday gifts, are always down for an impromptu adventure, or give the sweetest love advice every time some jerk breaks your angel bestie's heart. Of course, sometimes the best thing your best friends can do is play matchmaker. And if you have an eye for budding love between your buds or if you're super down to do whatever it takes to get your friend a date, you may be one of these four zodiac signs who make the best wing woman.
Of course, astrology doesn't dictate everything. If you're great at setting people up and always make sure your friends are feeling flirty and good, you're def an amazing wing woman, regardless of your sign. Wing women come in many shapes and sizes. Some play it totally cool and watch new love blossom from afar. Others get super into the action and won't quit until phone numbers are fully exchanged. No matter your style, looking out for new cuties for your friends is some friendship #realness that does not go unnoticed.
If you live to see your friends getting dates, you may be one of these four zodiac signs.