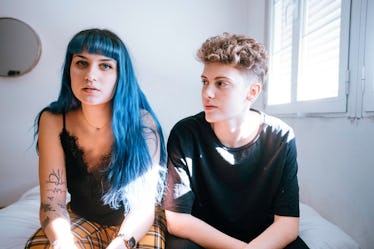 4 Things You'll Notice If You're Ready To Take A Break From Your Relationship
If you're at all familiar with any of the 236 episodes of Friends, you probably know one of the most notorious running gags of the show: "We were on a break!" Basically, Ross slept with someone when he and Rachel were on a break — she considers it cheating, while he doesn't — and it comes up over and over again throughout the show. While it was funny on Friends, real-life breaks aren't quite as comical. If you're ready to take a break in your relationship, rarely is it an easy decision, and there's a lot to factor in.
But, first things first — what even is a break? Well, it's what you make of it, and what you expect to get out of it. "A 'break' in the relationship can be defined and deployed in so many different ways," Dr. Joshua Klapow, a clinical psychologist and host of The Kurre and Klapow Show, previously told Elite Daily. "What is most important is to understand what the break actually means, why you all are putting [it] in place, and what you hope to accomplish from the break." But before you can establish any of these things, you have to make sure a break really is what you want. If you notice any of these four things about yourself when it comes to your relationship, then a break may be your best bet.