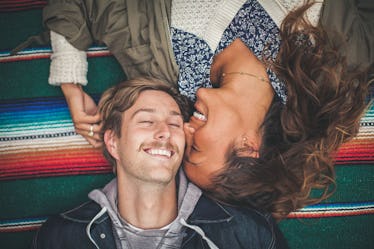 If You're Ready To Say 'I Love You' To Your Partner, You'll Notice These 4 Things
When it comes to relationship milestones that are thrilling, elating, and nerve-wracking all at the same time, it's tough to beat saying "I love you." It's just three little words, right? But knowing when you're ready to say I love you isn't always easy. Not to mention, you can never know for sure how the other person will react or respond to you saying it.
Some may eagerly declare it just a month or two into dating. For others, it may take far longer for their feelings to justify those words. As for me, I decided I was ready to say "I love you" when I simply couldn't not say it any longer. After realizing how many times it had almost slipped out of my mouth, I knew it was time to give in to my instincts and make the depth of my feelings known.
Ultimately, of course, the "right time" to say "I love you" is going to depend on the nature of the relationship. But according to Dr. Gary Brown, a prominent dating and couples therapist in Los Angeles, here are a number of signs that may suggest it's time to utter this game-changing phrase.