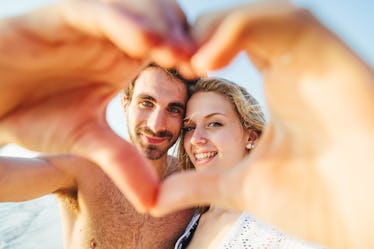 This Is How 8 People First Said "I Love You" & I'm Not Crying, You're Crying
I love you. I used to believe that those three little words carried some kind of mystical weight — that once they were uttered and returned, their energy would carry the power to bring order to the universe, and peace to the inner workings of my chaotic mind. But I never knew how long to wait before saying "I love you," so I always proceeded with caution. When I finally mustered up the courage to say the words out loud, something quite unexpected happened.
There was no live orchestra playing Lana Del Rey in my eardrums, no message written with scattered constellations in the sky. What I did experience was the overwhelming sensation of comfort, which came from the knowledge that I could let my feelings run free, uninhibited by self-doubt and insecurity. That's the true beauty of requited love: taking solace in the shared vulnerability that comes with putting your guard down and letting somebody else in.
Everybody says "I love you" during different phases of a relationship — there is no correct point in time when the words just seem to magically fall from your lips. Instead of getting inside your head, let your heart and intuition tell you when you're falling in love. When you meet the right person, it won't be something you know, but rather, something you start to feel.