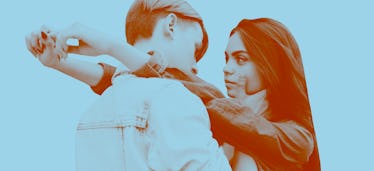 7 Things To Remember When Dating Someone Who Just Experienced A Bad Breakup
Shanelle Infante, Elite Daily
So, you met someone who's pretty amazing — and you can already see some definite potential there. You're trying not to get too excited just yet, but the reality is, a mere text from them makes your whole dang day every single time. The only potential problem? You just found out they're fresh off another relationship. If you're dating someone who just experienced a bad breakup, there are certain things you'll need to keep in mind. That's not to say your budding romance can't blossom into something great — but experts say it's important to be mindful of what your new boo is emotionally capable of while also protecting your heart.
The first question on your mind probably revolves around whether or not your new love interest is ready for another relationship. Only your partner can figure that out; it's important that they're honest with you about their readiness for a new relationship, and that you're clear with them about your needs. If you stick around in something unfulfilling with unrealistic expectations, that could very well breed resentment over time. And if you pressure your new special someone to get over their last relationship before they're ready, that could lead to some negative feelings, too.
What it really comes down to is this: Have they allowed themselves the time and space to grieve their last relationship before getting involved with you? You both deserve to feel fully accepted and appreciated. So, if you're not quite sure where you stand with your new partner — or are trying to figure out whether your connection has a real shot — here's what experts say you should know.