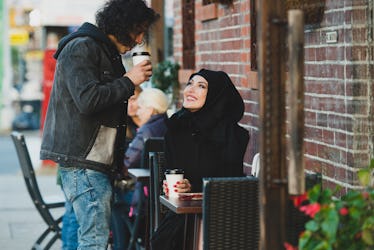 4 Zodiac Signs Who Would Never Stand You Up, So Ask Them Out ASAP
Let's face it: Getting stood up sucks. You put on real pants, with a fly and everything. You did your hair, even though it was acting up today. You splurged on an Uber because of the aforementioned hair situation made you miss the train. You finally get to the restaurant that you didn't even want to go to in the first place, only to receive a totally lame, "Can't make it. Something came up" text two hours too late. Of course, if you're dating someone totally reliable, you're probably pretty sure that your partner would never stand you up. And if they're a Cancer, Virgo, Libra, or Pisces — their zodiac sign may have something to do with it.
From being there for their loved ones to making a plan and sticking to it, these signs are the ones you can depend on. Whether you have a big date or your work is throwing a party and it would mean a lot to have your boo there, these signs will show up for you. Like, literally — they will show up when they said they were coming.
Here are the four zodiac signs that will never stand you up.