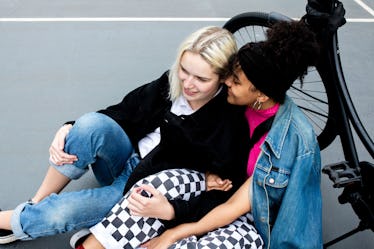 5 Things To Remember If Your Goal Is To Find Love In 2020
The start of a new year inevitably inspires you to set new goals. And if your goal is to find love in 2020, then you'll want to adopt the right mindset, build up your self-confidence, and set some focused intentions for dating success. Sound like a lot of work? Sure, you could kick back, pour yourself a spiked seltzer and mindlessly swipe away until you magically match with "the one." But the truth is, the more thought you put into dating, the more likely you are to manifest your ideal romantic situation.
Part of this entails being more deliberate with how you put yourself out there, what avenues you use to make connections, and who you plan a second or third date with. As you become clearer on your specific dating goals, it will be easier to make these kinds of decisions, and subsequently, meet people who you're actually compatible with. But another component involves focusing on your own self-growth and self-awareness as well.
But let's get one thing straight, first: Finding love is a phenomenal goal to set. So, congrats on acknowledging what you want in the coming year. After all, knowing what your priorities are is half the battle.
Now that you've identified your objective, you can begin the exciting (albeit potentially bumpy) journey of achieving it. Just be sure to keep these things in mind along the way.