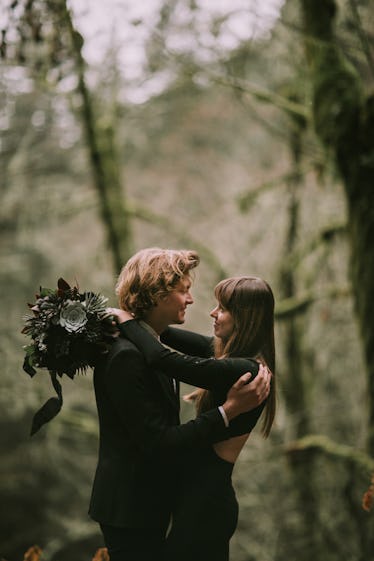 What Happens When You Get Married Before The One Year Mark, According To An Expert
If you've known that you and bae are meant to be together forever after just a few months, you might be thinking about getting married before the one year mark. Maybe you found love at first sight and want a serious commitment, or perhaps you can't possibly stand to spend more time not married to the love of your life. But what can happen when you tie the knot before dating for a year? And is there a certain amount of time a couple should be together before dropping an "I do?"
"There really are no hard and fast rules about this because each couple's situation is different," Dr. Gary Brown, a prominent relationship therapist in Los Angeles who has worked with singles and couples for over 25 years, tells Elite Daily. "I think that the amount of time is less of a variable. That depends upon the couple. Having said that, there are some general guidelines and questions to ask yourselves: Are both of you truly ready to make a potential life long commitment? How well do you really know yourself? How well do you really know your partner?"
Dr. Brown shares what you can expect if you and boo decide to tie the knot before the one year mark.