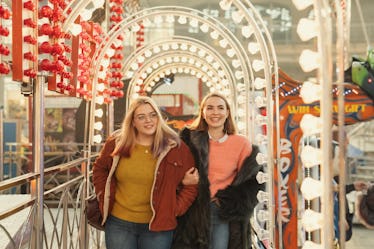 4 Zodiac Signs Most Likely To Throw Caution To The Wind & Get Caught Up In Whirlwind Relationships
Sometimes you meet the person you're supposed to be with and everything seems to fall into place. Whether you had a total movie-status meet-cute at the grocery store, or you've always been in love but never admitted it until you both were at the same party — sometimes, relationships seem to go, as Rihanna would say, from zero to 60 in three point five. Of course, if you've noticed you've always been one to get a little caught up in whirlwind relationships, your zodiac sign may have something to do with it.
Of course, no one knows your relationship better than you and your boo, and if moving quickly feels right for you, it is right. You don't have to put your relationship on anyone else's timeline. If sleeping together on the first date or moving in together after three weeks is what works for you, than you don't need to change anything about what you're doing. Communication is key in any relationship, and if and your boo are open and hones about your needs and comfort levels — that's all that matters.
If you're likely to get caught up in whirlwind romances, you may be one of these four signs.