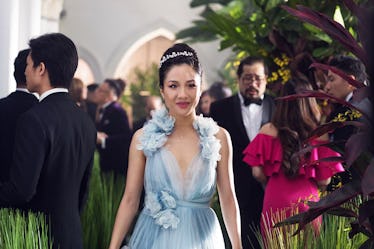 Everything You Need To Look As Glam As The Cast Of 'Crazy Rich Asians,' According To The Pros
Warner Bros. Pictures.
In a 48-hour whirlwind earlier this week, I successfully read the entirety of Kevin Kwan's novel, Crazy Rich Asians, as well as caught a $5 showing of the film inspired by the book. Needless to say, I've spent the last couple of days reading, talking, and posting about this franchise on overdrive, and now I'm here to write about it, too. In particular, I'm interested in the hair and beauty products in Crazy Rich Asians that made the entire cast look so glamorous, luxe, and, well, crazy rich.
As a beauty-lover, I found myself making a running list of beauty-related mental notes as the film played out on the big screen before me. Some of these included the following musings: "such shiny hair," "humid but not sweaty?" and, of course, "Rachel's glow-up". I realized I likely wasn't the only one impressed with the movie's hair and makeup magic, so I decided to indulge my interest with the help of some tips from the film's lead hair and makeup artist, Heike Merker, who has been an open book about the film's beauty secrets.
Super Rich, Super Shiny Hair
It's said in the book that the beautiful Astrid Leong "only exists to feed obsession," so it's no surprise that I quickly became obsessed with her hair when I saw her portrayed on-screen by actress Gemma Chan. As I watched, I quickly realized her soft waves weren't the only instance of great hair in the film, but rather one example of a general standard of glossy strands possessed by the entirety of the "crazy" rich characters.
According to Merker, the goal for the wealthy's perfectly coiffed strands was to have it look freshly chopped and styled at all times. "Rich hair is shiny," she explained in an interview with PopSugar. "The ends are never dry. If you always cut your hair, the ends are always perfect."
Achieving a fresh-looking style was hardly easy on-set, Merker shares, thanks to the humidity. "The problem was that we shot this film in Malaysia, and the humidity was at 85 percent," Merker told PopSugar. "It was too hot, and then the hair would straighten out pretty fast, even if you had the best curl and used lots of hairspray. It was nice when we could do [updos], but if there was a day where everyone had long straight or long curly hair, it was a disaster."
To keep hairstyles in place, Merker favored the Fudge Skyscraper Medium Hold Hairspray ($42, Amazon), which was durable without making hair look stiff on-screen and could easily be brushed out when it was time to restyle for a scene change. Merker hasn't named any products for nailing the glossy strands so many of the wildy rich sported, but IGK Hair's Expensive Amla Oil Hi-Shine Topcoat ($29, igkhair.com) has a pretty fitting name given the film, and promises to give hair a "prism-like shine."
Humidity-Proof Complexions
Just as the hair had to withstand the heat, the makeup was no different, and Merker had a strategy to ensuring the looks she created would last. "We put a hot towel on their faces first to take off the oil, and then an oil-free face cream," Merker told Glamour.
As the long, hot days of filming went on, Merker knew she would need the perfect product to touch up sweaty skin and give it a flawless, matte look on camera, and she said that the Peripera Oil Capture Pact ($15, cvs.com) was a behind-the-scenes lifesaver.
"We all had powder puffs in our hands all the time. The thing is, you can't just add regular powder on top of the shine because then it becomes too thick," she explained to PopSugar. "I used a lot of the Peripera Oil Capture Pact, which I picked up in Malaysia. It's not really powder; it was more like silk on the skin. It's not expensive, either."
Rachel's Singapore Glow-Up
It's true that all of the wealthy characters were perfectly coiffed and glammed at all times, but protagonist Rachel Chu, played by actress Constance Wu, experienced the ultimate glow-up as the film went on, transforming before viewers' eyes from a low-key New Yorker to a Singapore glamazon.
"She's a working woman in America, so her look needs to be good but not big," Merker said to Glamour of Rachel's appearance throughout the film. According to PopSugar, Some of Merker's go-to products came from K-beauty brand Chosungah, including its Real Cheek Smoother ($22, hsn.com) tapped onto skin as a natural, creamy blush.
When it came time for Rachel's glow-up at Araminta and Colin's wedding, she came dressed to impress in a baby blue tulle couture gown paired with a sparkly hair accessory and equally shimmery skin. Merker told PopSugar that the MAC Mineralize Skinfinish in shade "Lightscapade" ($34, maccosmetics.com) is to credit for her radiant complexion.
"We used these MAC body powders, which had yellow, orange, light blue pastel colors," says Merker — and the highlight wasn't only placed on Rachel's face. "We used a brush and went over her arms and neck with it." TBH, I would feel totally upstaged if someone showed up to my wedding looking this effervescent, so I'd say Merker really mastered this look. It's one of my favorites in the movie overall.
All in all, the plot of Crazy Rich Asians really drew me in, but in the end, it was the hair and makeup I fell in love with, in addition to the fashion and flair of the wealthy characters. Next time you see me, expect me to be rocking perfectly blotted, matte skin; soft, shiny, hair; and a whole lot of body highlighter, because I'm taking all Merker's tips.