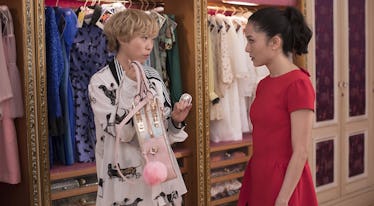 'Crazy Rich Asians 2' Is Officially Happening, So Start Your Countdowns Now
Warner Bros.
More Crazy Rich Asians will be coming your way soon! After the new rom-com's massive premiere, Warner Brothers is moving forward in developing a sequel, as reported by The Hollywood Reporter. So when will Crazy Rich Asians 2 premiere, and what will the follow-up movie be about? Thankfully, we actually already have a pretty good idea about the plot of the sequel.
Even before Warner Brothers confirmed that it would develop a Crazy Rich Asians sequel, there has been a ton of talk about a possible sequel to the film for a number of reasons. First and foremost, director Jon Chu included a post-credits scene that teased a totally new storyline — these types of scenes are expected in the sequel-dense Marvel and DC movies, but have not really been seen much outside of the superhero genre. And then, of course, there is also the fact that the novel that Crazy Rich Asians was adapted from actually has two sequels, so the story is already there if they want more. That box office-dominating $35 million opening weekend surely did not hurt, either. But despite all of these factors, Jon Chu had remained coy about possibly making a sequel... until now.
Spoiler alert: This post will contain spoilers for Crazy Rich Asians.
The upcoming sequel will be based on the second book in Kevin Kwan's Crazy Rich Asians trilogy, entitled Crazy Rich Girlfriend. As the post-credits scene in Crazy Rich Asians hinted at, the main focus of the second story shifts from the newly engaged Rachel Chu and Nick Young to Nick's heartbroken cousin Astrid Leong, played by Gemma Chan. After finding out that her husband Michael had been cheating on her, Astrid reconnects with her ex-fiancé Charlie Wu (Harry Shum Jr.) at Rachel and Nick's engagement party. Crazy Rich Girlfriend centers on Astrid's rekindled romance with Charlie, which sparks after this chance reunion.
The second novel also sees Rachel and Nick travel to China in search of Rachel's father, whom she learned the true identity of towards the end of Crazy Rich Asians due to Eleanor Sung-Young's private detective. The story also sheds some more light on a pretty surprising character: Kitty Pong, the gold-digging actress played by Fiona Xie. In Crazy Rich Asians, Kitty only briefly pops up and is mainly played for laughs, ending with her leaving Alistair Chen for Bernard Tai after she learns that he will inherit a larger fortune. But in the follow-up book, Kitty actually gets a lot more depth, so fans can expect to see more of her in the new movie.
If the Crazy Rich Girlfriend movie goes as well as Crazy Rich Asians did, then we will likely get a third film as well. The final book in Kevin Kwan's trilogy is entitled Crazy Rich Problems, and it deals with Nick Young having to overcome his scheming relatives in order to inherit his dying grandmother's fortune.
Unfortunately, there is no word yet on when we can expect the Crazy Rich Asians sequel to hit theaters. Director Jon Chu's next big project is an adaptation of the Lin Manuel-Miranda musical In the Heights slated for a 2020 release, so sadly, we might have to wait a couple of years before we get another dose of all the wild Singaporean family drama.