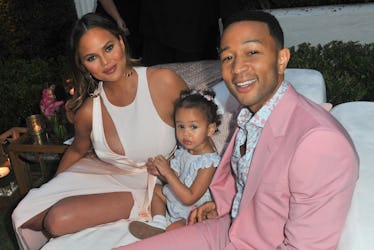 Chrissy Teigen's Instagram About Seeing 'Crazy Rich Asians' With Luna Is So Beautiful
Jerod Harris/Getty Images Entertainment/Getty Images
My fave couple, Chrissy Teigen and John Legend, took their two-year-old daughter Luna to see the movie Crazy Rich Asians over the weekend, and the entrepreneur mama was feeling all the feels while watching the blockbuster hit. Afterward, she wrote a pretty incredible post detailing why the film is so important to her family — and trust me when I tell you that you're gonna need a box of tissues nearby when you read the Lip Sync Battle host's poignant words. Seriously, you guys, Chrissy Teigen's Instagram about seeing Crazy Rich Asians with Luna is so beautiful that I'm totally tearing up.
"What can I really say about this movie that hasn't been said by absolutely everyone who has seen it," Teigen wrote beneath an image of her and Luna staring up at a window display showcasing one of the film's stunning designer gowns. "I've been excited to see this since production was announced but I could have never imagined how wonderful it would be. The feeling I got during the credits, watching John dance with my little black asian mashup baby bear luna tunes, was a feeling I haven't had at the end of any other movies."
"I loved it all," she explained. "From the quieter moments of talking around the table of sacrifice and past hardships to the spectacle of the bachelor party. Finding that I could cry watching the most over the top aisle walk on the planet. You never know how much you miss being represented on screen until you actually see what it's like to be represented. And represented by all different types of characters with all different types of personalities, just like any other great movie."
Such an amazing point. Teigen then went on the explain that even though Luna is only a toddler, she, too, found joy in seeing her family members represented in the film.
"Luna, aside from being blown away by the general movie-going experience (yep she's 13 now, time flies) looked up at @constancewu's mother and yelled 'yāy!' ('Grandma' in thai) because she saw someone who looked like her yāy," Teigen wrote. "Someone beautiful and aspirational. It was something that simple that made my heart just...warm."
Teigen's post was so inspiring and heartfelt that even Kevin Kwan — the author of the bestselling novel the movie is based on — rolled up in the comment section to chime in. "So happy you enjoyed it," he wrote. "Thank you for your beautiful words."
Later, Kwan added a second comment. "Does your husband know he's in my second book, 'China Rich Girlfriend'?" he asked.
"WHAT," Teigen responded. "Now he does!!!"
It may sound like a joke, but a helpful Twitter user screenshotted the exact passage from the book that features Legend's name:
Please, PLEASE tell me Legend will get to play himself in the sequel — yes, there is already one in the works — and that Teigen and Luna will show up in some kind of cool cameo. Because I would see that movie 50 billion times. Or, you know, at least twice.