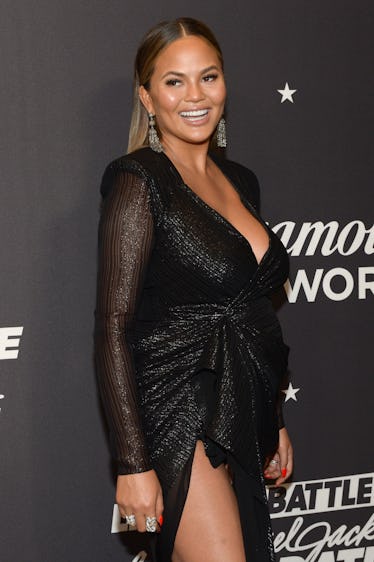 Chrissy Teigen Puked At Luna's School, Which Means She's Not Always The Cool Mom
Tara Ziemba/Getty Images Entertainment/Getty Images
Chrissy Teigen is always a great source of comedic relief, especially when a good laugh comes at her own expense. In fact, she recently shared a story about getting sick at her daughter's school orientation that proved she's just like everyone else. More than that, it gave moms everywhere a reason to smile even on their most stressful days. Chrissy Teigen's story about puking at Luna's school is as hilariously unglamorous as it sounds.
Even with all the fame and money Teigen has earned over the years, she still has some pretty awful days. Like Monday, Aug. 20, when she went to her daughter Luna's school and ended up puking in front of everyone. Yep, the beautiful and glamorous model literally threw up last night's dinner for the entire school to see. And she definitely wasn't ashamed to share the story on social media.
After little Luna's back-to-school orientation, which her mom apparently ruined by throwing up, Teigen took to Twitter to apologize for the incident. She also wanted to make light of what it's like to be a working, traveling mom of two.
"Hello everyone from Luna's school orientation today," Teigen wrote. "im sorry I projectile puked caffeine upon arrival, couldn't open my eyes and had the noisiest newborn in the room. (not a joke, very sorry, see you tomorrow)."
Soon after tweeting her hilarious apology, Teigen explained the reason her puking incident happened in the first place.
"Oh no it was not first day of school jitters," Teigen tweeted. "It was last night's wine and Korean bbq and jet lag combo."
Yikes. Sounds awfully embarrassing. Thankfully, Teigen doesn't take herself too seriously and is always ready to laugh at herself. It's part of what makes so popular and so relatable. I mean, how many other moms have had this experience? And now they know that celebrities go through this stuff, too!
In true Twitter fashion, a wave of support came from the masses. Fans, fellow parents, and even school teachers shared their first-day mishaps. They range from similar puking incidents to wardrobe malfunctions.
Someone who was also at Luna's school wrote, "Great seeing you there! The struggle is real and we've all been through it. You and @johnlegend are awesome parents and handled it respectfully. Hope Luna has a great school year!"
Another Twitter user shared her embarrassing story as well. "Did I tell you about the time I got my dress stuck in my panties before I went back to teaching on the second day of class?" she wrote. "And didn't realize it until a kind female student told me just in time to keep me from turning to write on the board that way. No? #goodtimes #momlife."
And someone else came up with a pretty clever way for Teigen to use this puking situation to her advantage. "See, I think this is very strategic move," they said. "Now you don't have to worry about those overly excited volunteer parents who plan every single thing under the sun on the first week of school asking you for help. Now they just think you have 'enough on your plate'. Well played"
At least Teigen isn't the only one with an embarrassing story to tell. It happens to the everyone at some point or another!