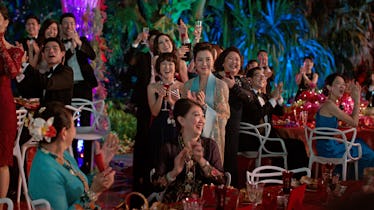 The Ratings For 'Crazy Rich Asians' Are Even Higher Than You'd Expect Them To Be
Warner Brothers
The "Romantic Comedy" was a long staple of the movie landscape. But somewhere in the mid-aughts, the popularity of this format of female-centric meet-cute stories suddenly fell out of fashion and fell hard. It's been over a decade since the genre had a major release at the box office, but 2018 seems to be the year rom-coms are on a comeback. The latest offering, Crazy Rich Asians, isn't just a romantic comedy, but one that celebrates diversity on-screen, while bringing to life a New York Times bestseller. And the Crazy Rich Asians ratings are crazy off-the-charts to match.
Based on the Kevin Kwan novel of the same name, Crazy Rich Asians stars Constance Wu as Rachel Chu, a New Yorker of Chinese descent and an economics professor. She agrees to go with her boyfriend, Nick Young (Henry Golding), to Singapore to a family wedding, only to discover he comes from serious money and a family with a dark past.
The cast alone is worth seeing the film for, but the plot is the real joy of any rom-com, and all Henry's wild relatives and friends back home more than qualify. Reviewers clearly agree. The embargo on reviews lifted this week, and the result is Crazy Rich Asians currently stands on Rotten Tomatoes at 96 percent certified fresh.
Caroline Siede of the A..V. Club gushes:
Crazy Rich Asians joyously embraces a heightened aesthetic while keeping its story grounded in real emotional truth.
Peter Travers of Rolling Stone loves it:
In the guise of a bouncy romcom about insanely gorgeous rich kids, the pointedly entertaining Crazy Rich Asians is making history as the first Hollywood film in 25 years to feature an all-Asian cast. It's also "the" comedy to see this summer.
And Johnny Oleksinski of the New York Post says this is just what the doctor ordered for the rom-com drought to end.
Crazy Rich Asians is a defibrillator for a genre that flatlined ages ago. This heartwarming, well-acted - and decadent - film takes you back to the greatest hits of Nancy Meyers, Richard Curtis and Nora Ephron.
As for how the film is expected to do at the box office, the mid-week opening is likely to work in the film's favor. Most movies preview Thursday night and open officially on Friday. Crazy Rich Asians arrives on Wednesday, Aug. 15, and will roll into this weekend accruing a five day cumulative.
According to The Hollywood Reporter:
Crazy Rich Asians is now tracking to post a five-day debut of $26 million-plus, according to the latest prerelease surveys. That's up from $20 million several weeks ago.
Warner Brothers' slow roll out over the course of the month has been helping build word of mouth, and many are thinking the current estimates aren't nearly high enough.
Many box-office observers believe that Crazy Rich Asians will outperform tracking and do even more crazy great business. Based on Kevin Kwan's best-selling 2013 novel of the same name, the modestly budgeted $30 million film is the first Hollywood studio movie since The Joy Luck Club 25 years ago to feature an all-Westernized Asian cast.
Crazy Rich Asians opens this Wednesday, Aug. 15, 2018, in theaters everywhere.