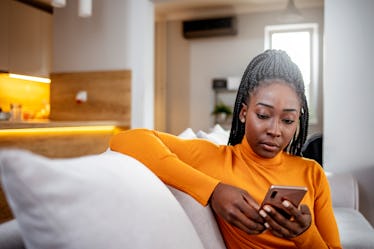 Here's How To Deal If Coronavirus Made Your Relationship Long-Distance
ljubaphoto/E+/Getty Images
It's normal for your emotions to be a mixed bag if the coronavirus is keeping you away from your partner. You might feel annoyed and frustrated because all you want to do is be with them, but social distancing is making that impossible for awhile. Maybe you decided to quarantine with your separate families in different cities, or you're closeby but quarantining individually after traveling. Along with general anxiety about the pandemic, you might be worried about when you'll get to see your partner next. And even if you're lucky enough to be quarantining with a roommate you don't hate, your best friends from college, or your family, it's still OK to feel lonely when you're away from the person you love.
Sami Wunder, an international dating and relationship coach, says that being vulnerable with your partner is key when you're confronting this pandemic's emotional strain on your relationship. "To keep the connection strong, remember that being vulnerable is important," Wunder tells Elite Daily. "Don't pretend to be happy and upbeat if you're not feeling that way. Share your truth with your partner."
Here's some more advice from Wunder on dealing with the grief of your relationship abruptly becoming long-distance due to the coronavirus outbreak.