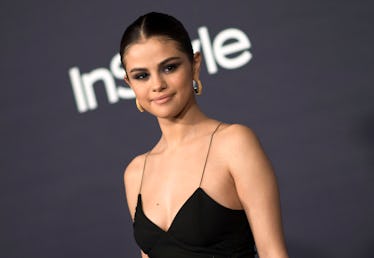 I Tried Out Three Iconic Selena Gomez Makeup Looks, Because I Just Wanna Look Good For You
VALERIE MACON/AFP/Getty Images
You've been there before: You're scrolling through your Instagram feed when you see your favorite celeb post about their favorite new product — a face serum, vitamins that will make your skin brighter, or a specialty food service. You can't help but want to be like the stars, but are the products worth it? In Elite Daily's new series, I Tried, we put it all to the test. We're trying those products as well as celebrities' health and wellness tips, recipes, and life hacks. We'll do the leg work and tell you what living like your fave star is really like.
Selena Gomez is such a style icon. She's daring and bold — embracing dramatic wings and glitter — but always remains true to herself and her soft, elegant aesthetic. So I decided to try out three Selena Gomez makeup looks because I just wanna look good for you, OK?
With the help of her longtime makeup artist, Hung Vanngo, Gomez has sported an infinite number of gorgeous lip and eye combos that have graced nearly every social media site. After the 2017 Met Ball, beauty gurus everywhere were scrambling to recreate her striking pink-and-red contoured eye look. When Gomez sported a fierce 15-minute full face look, featuring the most intense cat eye you'v ever seen, the internet was shook.
It's clear the artist-formerly-known-as-a-wizard has changed out of the layered shirts and questionable scarves of Waverly Place and into the gowns and haute couture in the wonderful world of high fashion. But, I must admit, I have fan-girled Gomez since the beginning. (OK, I'm a bad liar, not quite since her Barney days, but definitely since she was sassing it up on the Disney Channel.)
Through her comedic acting, thoughtful producing, charity work, and honest and open social media posts, Gomez shows that beauty is more than skin deep. That and oh, as the Most Followed Person on Instagram, she's insanely popular. I decided to interpret my favorite makeup looks she's ever worn, to test if I could tap into her power female vibes myself — and to see if social media stardom would ensue.
1. Wings For Days
The first look I wanted to recreate was the iconic look that Vanngo painted on her face in a mere 15 minutes for her (rumored) ex-boyfriend The Weeknd's concert. What a life, right?
Full disclosure: I've done this look before. Right after Vanngo posted this glam, I went full force because I just couldn't not try it, it's so fierce.
But, admittedly, this recreation wasn't exactly the same. So I decided to do it again.
Perfecting the liner took some time, but it was totally worth it! I felt so untamed. Normally, top and bottom liner can make my tiny eyes look even smaller, but I think this jumbo-sized wing just made them look massive.
After I posted these pics on my IG account, my mom was the only one to actually comment on my photo (thanks, Mom). But I did have quite a few friends responding to my Instagram story telling me how much they loved the look.
Though some of my buddies reassured me that my makeup was on point, most responses involved my friends telling me that I should wear my hair up more often. I generally hate my hair up, but with this look, it was fitting.
One of my very kind and talented makeup artist friends, Aaron, told me I was "perfect," which is very fitting for an article on Selena Gomez.
I seriously didn't want to wash this look off at the end of the day. I was surprised how wearable an intense graphic liner could be. I think the glossy, nude lip made it much more accessible.
2. Pink Eye
For my second look, I wanted to recreate the look Vanngo dreamed up for Gomez at the 2017 Met Ball, utilizing Marc Jacobs Beauty. It was much easier to emulate than the winged liner look, but I really didn't love it as much.
The strangest park of this look is that there is no shadow on the bottom lashline, which works for Gomez but doesn't really work for me.
My eyes just felt a little... naked. I have smaller lashes, so I normally wear big falsies when I do eye-focused looks. But to capture the essence of Gomez, I used the tiniest lashes I own. They pretty much just fill in any gaps in my lashline, much like individuals do. They just don't add any length or notable volume.
I don't think my 5,000+ followers were too impressed with this look. When I posted it on my Instagram story, not a single one responded. It felt like the time in 2017 when Gomez would delete her Instagram once a week because people were mean.
I even wore this look to work, and again, crickets. For Gomez, this was a risk that paid off big time. She doesn't wear many bright colors, so for her, pink and red shadow were a departure from the norm. I actually opt for more dramatic neon makeup on the reg, so I think this look went unnoticed because it's more relatively tame for me.
By the end of the day, I noticed I looked more washed out than usual. To stay true to the original look, I applied very little blush and only a super glossy pink lip to support my eye. Both the blush and the gloss faded with time, leaving behind the bright eye behind and not much else.
Though it sizzled on her, this look didn't give me much to write home about.
3. Let's Wine About It
For the last look, I wanted to do something that had more of a lip focus since my last two were such eyefuls. So I decided on this seasonally-appropriate, mulled wine lip moment.
I learned my lesson from the last look. This time, I used Sel's makeup as a jumping off point, and tailored it to fit my own face and aesthetic. All the tones are the same, but I added heavier lashes and upped the highlight and contour.
It's a cute look and definitely closer to what I normally wear. A little less eyeliner, maybe, but the massive Huda Beauty Jade Lashes kind of make up for it.
My friends and followers had a lot of feels this time around. My roommate approved, but confirmed that he found this look less intense than my usual glam.
V nice indeed.
The lovely @araweston had words of appreciation as well. The lips are definitely straight off Gomez's look, while the lashes are all me.
The wonderful @cassi.hess loved how wearable this look was, and I'd definitely have to agree. It's probably the easiest of the three looks to achieve and definitely the most wearable.
My best friend Rachel, who loved the liner look, might have loved this one even a little bit more.
She's not wrong. Though there's a teensy bit less eyeliner than usual, it is pretty close to my everyday glam.
Recreating the Most Followed Person on Instagram's looks taught me two important lessons. First, go out of your comfort zone! I thought so much liner would overwhelm my eyes, but now I'll start trying heavy-lidded looks more often. And, second, you should enhance your own best features instead of trying to copy someone else's. The pink eye look fell flat on my because I wasn't going along with my own bone structure. I was trying to take replicate another person's face — and that's just never a good idea.
When I interpreted the third look to include more personalization to my specific features, it felt much more "me." As our Selena sings, "I'm no beauty queen, I'm just beautiful me." Even my friends were able to see the difference, and the social media love just poured out of 'em, like rabid fans after seeing a new Selena Gomez Instagram.