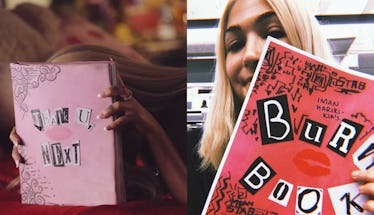 I Made A Burn Book Of All My Exes & Finally Found The Courage To Say "Thank U, Next"
Can I ask you an honest-to-God question: Are you actually grateful for your ex? No, not really? Yeah, that's what I thought. If I'm being quite frank with you, I wasn't really either — until I took a cue from President Ariana Grande and decided to make a burn book of all my exes in an attempt to finally utter those three fateful words: "Thank U, Next."
My world has been truly rocked ever since Ari dropped the video that would change all videos, recreating all of your favorite rom-coms from the 2000s, and featuring cameos from Troye Sivan, Jennifer Coolidge, and my mom, Kris Jenner. The video drop itself was a momentous occasion; safe to say, I've been reborn an Arianator.
The segment of the video that lingers the most in the forefront of my brain as I'm trying to fall asleep — and has perhaps received the most amount of press — features Grande portraying Rachel McAdams's iconic Mean Girls character, Regina George. Grande's George is lounging about in her bedroom, creating a burn book, otherwise known as a scrapbook with the sole purpose of roasting. But unlike the Mean Girls antagonist, Grande-McAdams-George is putting together hers purely to commemorate her exes. She makes some literally big claims — like suggesting that Pete Davidson truly is "huuuuge," and that Big Sean can still "get it." Then, she thanks them for their service, and simply moves on. It's understated. It's brilliant. It's inspirational content at its best.
OK, hear me out: It's not that that I'm still angry at my exes or harbor any type of actual resentment, but I've never really hyper-analyzed my relationships from a distance, and I've never gained any real perspective or closure. So, I decided to take a cue from Grande and craft a burn book of my very own in the hopes that I would gain further insight into the way that I communicate with others, and why those relationships had to come to an end. And also, perhaps purchase a ponytail extension. I had high hopes that when I was through, I'd be flooded with gratitude from God herself.
I started with my middle school boyfriend, Travis* — my IRL Troy Bolton. We met one summer in middle school while starring in a youth theater production of High School Musical. He played Troy, and I, Gabriella. Naturally, it was the start of something new. We began a torrid love affair — JK, we were like 13 years old. We established ourselves as girlfriend/boyfriend (is it just me, or was it much easier to DTR when we were tweens?), held hands a few times, and pecked on the lips maybe once. Unfortunately, he lived in Connecticut and I lived in New York, and our relationship wasn't cut out for long distance. I hear he is still acting and dating a very nice young man. Ultimately, I am grateful to Travis. I was a terribly uncomfortably and angsty pre-teen at the time, and his doting affection suggested to me that I was worthy of love — or at least, like.
Thank U. Next.
I moved on to my high school boyfriend, Evan.* We were together from the end of my junior year throughout the entirety of my senior year. Actually, our relationship timeline was murky — I'm honestly not sure when we DTR'd, and we were constantly on-again, off-again. For example, I broke up with him over spring break so that I could enjoy my class trip to the Bahamas (I never said I was an innocent in all of this!). Anyways, Evan was peachy — we lost our virginities to each other, and discovered our bodies together. But TBH, I never really knew that much about him, besides the fact that he planned to walk onto his college basketball team and that he didn't want to take me to sushi restaurants. He also left me alone on a street corner in Paris once, but that's a story for another time. Ultimately, I do owe a lot to Evan: He taught me about intimacy, and allowing people to get close enough for it to hurt. I'm grateful for my vulnerability.
Thank U. Next.
Succeeding Evan was the guy I dated for a hot sec during my freshman year of college, Mark.* Our whole relationship was kind of super complicated (but then again, whose isn't, am I right?!). We became friends during freshman orientation, but at the time, he was in an open relationship with a girl I kind of knew from back home (a camp friend of a high school friend, which is so New York it hurts). Our connection was very emotional and artistic. We had long existential conversations about both our futures and our pasts. But ultimately, we couldn't get our psyches aligned — we were very much moving in different directions, as in he literally moved away from New York and barely gave me the memo. Now, every once in a while he'll pitches me articles ideas about his new app, or whatever. And even thought I ignore them, I still have no regrets about our time together: He taught me a lot about Fellini films, and that sometimes, orgasming can kind of feel like you're peeing yourself — and that's totally OK.
Thank U. Next.
Do past long-term hookups count as exes? Whatever, I'll allow it. Next up, we have Theo,* a tryst that took place my sophomore year of college that should have been nipped at the bud during its very first week. We were friends with benefits for about six months, even though I wanted something more from the get-go. I truly should have ended it when I had the chance, but he kept pulling me back in. After we were officially through, I performed a song I wrote about him in front of all of our mutual friends at a sold-out gig. I'm pretty sure he found out about it. Theo still makes me the angriest of everyone in here, but I think it's because I see him every now and again. It's weird. But still, I've got to shoutout Theo: I'll never again question my own self-worth, and it's all because of you, dude. Grazie!
Thank U. Next.
OK, me and this next person went on a bunch of actual dates, so we did technically date, right? Anyways, Gustave* was a new co-worker who I met during my junior year and immediately was immediately attracted to. We made out at, like, our first corporate event! Anyways, because it was an in-office romance, we started going on all these "secret" dates, which I obviously should have flagged as fishy at the time. But they were charming! We attended pop-up concerts at 4 a.m., and danced at the National Monuments under the stars. We'd make out on the football field at night and go sit by the banks of Potomac and drink cheap wine. Unfortunately, our quirky charisma didn't have a long-term effect. He ended things on shift one day by admitting that he was totally in love with his best friend. Did I mention it just so happened to be Valentine's Day? It hurt, real bad. But honestly, Gustave was a nice kid, and I wish him well. I think we were never really compatible to begin with, but I liked the idea of what we could have been. But after our fling, I realized something very important: I was done with casual sex. And I'm so incredibly glad I had that revelation.
So, Thank U. Next.
Which brings me to my current relationship, which has been going on for over two years now. I am happy to report that my partner has never lied to his friends about the reason we're together, insisted on making out with me only at a top-secret laundromat, or pitched me a terrible screenplay idea. We are in the lamest relationship of all time — and I couldn't be happier about it. It feels quite satisfying to leave the drama behind, all in my burn book.
I won't lie to you guys: Putting this together was kind of painful. It was tough rehashing all the reasons my past relationships haven't worked out, and going through our old photos in order to pick a picture. Even though I no longer have romantic feelings for the people my exes are now, I still remember the emotions I felt for each of them back then — and the memory of what once was can be tricky to erase, even with glitter and jelly highlighters.
After replaying all of the disastrous dates, cringeworthy "talks," and heart-wrenching break ups over again in my head, I honestly do feel kind of grateful for my exes. Not because they're the people I always dreamed of ending up with, but because they taught me exactly what I'm not looking for in a potential partner. One literally did teach me love, and another actually did teach me patience. I'm grateful for their guidance and I do wish them all the best — even the ones who hurt me, badly. Is this what maturity feels like?
Putting together my very own burn book of my exes finally gave me a bit of closure on those relationships — although it didn't completely fix everything. While it didn't provide me with a cure for heartbreak, it put a Band-Aid on old wounds. I think part of me will always be sad about lost connections, because that pain informed the person that I've now become. But being that vulnerable allows me to compose beautiful music, and write morsels of truth into my stories. It makes me a better person, and a more authentic artist.
I'm proud of the choices I've made, and the person that those choices have informed. I've built a lot of character over the years. I'm not the perfect partner or girlfriend, but I'm learning to be content with just being me, Iman — and I'm so good with that.
*Names have been changed.