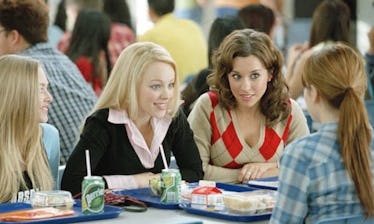 10 Secrets About 'Mean Girls' Even The Biggest Regina George Fan Won't Know
Paramount
Mean Girls may have premiered almost a decade and a half ago back in 2004, but its pop culture influence surely lives on. The official Mean Girls musical just made its rousing debut on Broadway this past week, ushering in a fresh take on the movie audiences fell in love with back in the mid-2000s. All these years later, fans are still eating the delightful film up like it's a Kalteen Bar. But even the most loyal followers of Regina George might not be clued in some intriguing secrets about Mean Girls. Here are11 surprising facts surrounding Tina Fey's teen movie masterpiece that every Plastics devotee should know.
1. The film is based on a self-help book.
Yup — Mean Girls was is actually inspired by Rosalind Wiseman's 2002 book about teenage girl behavior, cliques and high school popularity, Queen Bees and Wannabees.
2. The original title was supposed to be... Homeschooled.
Director Mark Waters revealed the scrapped name to the New York Times back in 2014, explaining,
We were going to make it about someone who's been home-schooled their whole lives and then has to navigate high school. Then we came up with the Africa concept, which was a real boon because we could compare the kids' behavior to animals.
3. Lindsay Lohan wanted to play Regina George, but Waters saw her as new-girl-turned-cold-hard-plastic, Cady Heron.
I wanted to play Regina. I had just played — in Confessions and Freaky —not the cool girl in school. I was still 17 years old and I wanted to be the cool girl on set. So I had a war with him, and he goes, "No, Cady is the heroine, and that's who you are." Then I sat in all the auditions.
4. Things could have been completely switched around when it came to the movie's now-iconic cast. Amanda Seyfried also auditioned for the role of Regina, which is hard to imagine because she makes the perfect Karen. Rachel McAdams auditioned for the role of Cady, but that wasn't right in Waters' eyes either.
"I think you're a movie star, but you're way too old for this character. You just aren't going to be able to play the ingenue," the director told McAdams when she read for Cady.
Amanda Seyfried landed the role and the rest became cinematic history.
6. Glen Coco is a REAL LIFE PERSON.
Tina Fey has stated the man behind the famous "You go Glen Coco!" line is, in fact, her brother's pal. "He's a film editor in Los Angeles, and I imagine it's a pain in the butt for him," Fey said.
7. Jonathan Bennett AKA Aaron "You're Hair Looks Sexy Pushed Back" Samuels was apparently cast thanks to his resemblance to Jimmy Fallon.
Looking like Tina's former "Weekend Update" co-host pays off.
8. Even though Amy Poehler played Regina's "cool mom, not like a regular mom" in the film, the SNL alum is only seven years older than her on-screen daughter.
Rachel McAdams is eight years older than Lindsay Lohan, although they both played high school students.
9. The movie could have received an R rating, but was altered to fit the PG-13 guidelines.
In a Variety interview released Tuesday, April 10, Tina recalled how the script was re-written:
The first draft would have been rated R. Even in the PG-13 movie, we had to take a lot of things out. We had a tough time with the MPAA. I remember thinking, If this was a movie about a boys' school, 'Is your cherry popped?' wouldn't have to come out.
10. Tina Fey may have went on to pen the just-opened musical adaptation of the movie, but in 2014 she explained that it was just too late for her to work on a proper cinematic sequel.
"At the time we did want to start the conversation about the sequel, and for whatever reason I was like, 'No!!! We shouldn't do that!' Now I look back and I'm like, 'Why?' But now, no—it's too late now," Fey remarked to EW.
It's never too late, Tina!