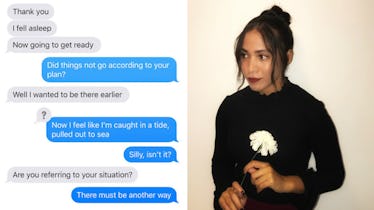 I Flirted Like Victoria From "Corpse Bride" & This Is What Happened
Sydnee Lyons
"I always hoped to find someone I was deeply in love with, someone to spend the rest of my life with. Silly, isn't it?" It isn't, really, but I would never say this. Not even if my fiancé left me in the middle of the night to elope with a literal corpse. That's probably why when I flirted like Victoria Everglot (from whom I stole that opening line) for a week, my partner thought I was having an emotional breakdown.
Tim Burton's Corpse Bride has everything you could ever want in a Halloween movie — dimly lit walks through the neighborhood graveyard, land-rich aristocrats who've locked their only daughter away in a decrepit mansion, musically talented skeletons, and an oddly poetic love triangle. Wait, those last two things don't add up at all. Nevertheless, they're in there and I've got to admit, this is still a pretty good Halloween movie.
To be clear, there are two leading ladies in this movie — Victoria Everglot and Emily, the corpse bride. Both are deeply romantic women who believe in soulmates and true love, which I can't say are two things I spend a lot of time thinking about. For this experiment, I mimicked Victoria's terminology and general mannerisms because well, Emily is dead and it would be way more complicated pretending to be her. Throughout the week, I mostly used cryptic one-liners that Victoria actually uses in the movie and later, stole a few pages out of her stylebook.
If this movie somehow slipped through your October to-watch list, let me bring you up to speed. Victoria Everglot's elitist parents have decided to marry her off to Victor Van Dort, the son of a nouveau riche fish merchant and his wife. The marriage seems unlikely because of the class difference between the two but it's important to both sets of parents for different reasons. The Everglots have gone bankrupt and hope that Victoria's marriage to Victor will "save them from the poorhouse," while the Van Dorts wish to legitimize their wealth by having their son marry up. Neither family suspects that Victor will be swept away the night before his wedding by a charming corpse bride with a runaway eyeball and a maggot for a stream of consciousness. I mean, who could have seen that coming?
All throughout the movie, Victoria is meek and poised. She's loyal to her parents and abides by their wishes, even when her heart says otherwise. "What if Victor and I don't like each other?" she asks her handmaid as she's getting ready for the rehearsal dinner. It's clear that she's a hopeless romantic. When she and Victor meet, her fears of an arranged marriage gone bad fade away. He is sweet and coy, much like she is. Her only act of rebellion comes once she's learnt of Victor's fate and tries to save him from the underworld and, by extension, save herself from her parents' new chosen suitor.
Now, I'm not betrothed to anyone. I don't live in an old mansion and I definitely don't think the living can marry the dead (more on that later), but I like Halloween. And that's really all it took for me to get into the spirit of this experiment. My partner… not so much.