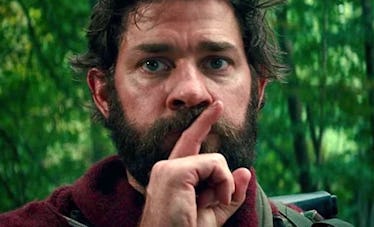 7 2018 Horror Movies To Watch On Halloween To Get You In The Spooky Spirit
Paramount
Start prepping you costumes now, people, because Halloween is just around the corner. But the holiday isn't just about playing dress-up and eating more sweet treats than seems humanly possibly, it's about scaring yourself silly by watching terrifying flicks all month long. At this point, you might be tiring of your horror movie lineup. You can quote The Shining by heart and Scream isn't quite serving up the same thrills that it did, say, the sixteenth time you watched it. Perhaps you're looking for some FRESH BLOOD? (Cue creepy maniacal laughter.) There are at least 7 2018 horror movies to watch on Halloween that you haven't overplayed yet.
October is technically the spookiest month of the year, but new horror films are released throughout the year, because let's face it — people love 'em. From popcorn slashers to sequels of beloved franchises to remakes to new indie classics, the genre has transcended its confines over the years and branched out to win over all sorts of audiences. Which horror movies from this year will get you in the Halloween spirit? Allow us to suggest a few titles that pair nicely with a bowl of candy a warm cup of apple cider. Just try not to spill when you're screaming.
1. A Quiet Place
OK, chances are you've seen John Krasinski's spine-chilling thriller about a family being hunted by monsters who are guided by sound. It was a huge hit and a sequel is on the way. There's a whole lot of shushing and stunned glances, plus, nobody says anything the entire time, but that does not mean it's short on the scare tactics. In fact, the whole no noise thing takes the already-haunting atmosphere to another eerie level.
2. Hereditary
And you thought your family had issues... Hereditary isn't your typical horror movie. It's a mind-bending portrait of one family unraveling as they face a series of disturbing and mysterious events. I won't go into detail about what those events might be, because they're almost too unsettling to describe, and you really need to see the craziness unfold for yourself. Warning: This film is not for the faint of heart.
3. Truth or Dare
Pretty Little Liars' Lucy Hale headlines this college horror flick about a group of friends who get stuck participating in a game of truth or dare that has ghastly consequences. Not pick your nose in front of your crush consequences — life-ruining and possibly life-ending ones.
4. Cargo
Netflix got into the zombie apocalypse game with the streaming serviced released this harrowing film about a father (Martin Freeman) trying to save his daughter as they're stranded in rural Australia.
5. Malevolant
On Oct. 5, Netflix is set to release this film about "a brother-sister team who fake paranormal encounters for cash get more than they bargained for when a job at a haunted estate turns very, very real."
6. Insidious: The Last Key
With "Insidious" in the title, you know you're going to be freaked out for weeks.
7. Halloween (2018)
If you're actually thinking of leaving your couch for the big screen, the long-awaited Halloween sequel is slated for an Oct. 19 release. Nothing says Halloween like Michael Myers and a movie theater full of eager horror fans.