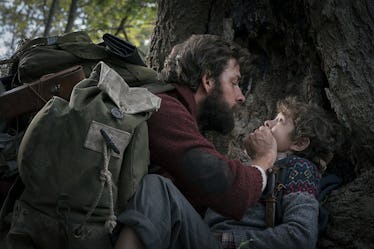 'A Quiet Place' Sequel Is Officially Coming, So Get Ready To Be Terrified All Over Again
Jonny Cournoyer/Paramount Pictures
Let out a little silent squeal, everyone, because a sequel to the hit horror movie A Quiet Place is officially on the horizon. The near-silent thriller introduced fans to the world of dystopian creatures that hunt by sound, and now that A Quiet Place sequel is on the way, we'll learn more about these horrifying beasts — and the family they've chosen to attack. Real-life couple John Krasinski (who also directed the film) and Emily Blunt received rave reviews for their performance as a couple trying to save their children from these dangerous creatures, but clearly it wasn't enough, because fans are desperate to see them back in action. Well, ask and you shall receive, horror fans, because the Quiet Place sequel is going to be a movie worth screaming about (silently, of course).
Paramount Pictures' CEO Jim Gianopulos first broke the news of the sequel on Wednesday, April 25 at CinemaCon. "We're thrilled to say that we're already working on the sequel to A Quiet Place," he said. Wait, wait, wait, hold up. "Already working on the sequel"? As in, it's already partly written? As in, we'll be able to see it in the moderately near future? After that thrilling cliffhanger ending (more on that in a sec), the Quiet Place sequel needs to get here ASAP.
Gianopulos didn't reveal any other details about the Quiet Place sequel, so we don't know what cast members will reprise their roles or if Krasinski will return to the directors' chair. But I do have a few guesses about who may return and how Paramount could transition into a sequel (**minor spoilers ahead!**). In the movie's last few moments, Evelyn (Blunt) and her daughter Regan prepare to face the creatures, shotgun in hand. The film cuts to black before we see whether Evelyn and Regan are successful at repelling the creatures — the high frequency of Regan's cochlear implant paralyzes them — so naturally, this would be a great place to pick up a sequel.
Starting the film with an epic battle scene with the creatures and the family would be an amazing way to start the sequel, and once it's done (assuming Evelyn and Regan survive, which they kind of have to), the film could focus on their attempts to recover. Right before Evelyn and Regan brace for a fight, Lee (Krasinski) sacrifices himself to the creatures to save his children, so it would be interesting to see how their grief weakens or strengthens their desire to survive. Or, maybe Lee somehow made it out alive, and the sequel will cut between him trying to find his way back and his family trying to move on? The cliffhanger ending creates so many possibilities for the Quiet Place sequel, so I'm confident that the excellent team behind the original film will give fans a satisfying second installment. If you need some help, ya know, give me a call. I have a few ideas...
Cliffhanger ending aside, it's not super surprising that Paramount would push to make a sequel. According to Variety, A Quiet Place grossed $50 million during its first weekend in the box office, the second-biggest domestic opening of 2018 (number one is Black Panther). And in the three weeks since its April 6 release, A Quiet Place has made $213 million worldwide, which is a massive amount of money for a horror film. In a landscape where only big budget, tentpole films like Avengers: Infinity War or the Star Wars have the potential to make major money for studios, A Quiet Place was a runaway hit for Paramount. If lightning struck once, why not see if it'll strike twice?
Are you ready to be terrified all over again?