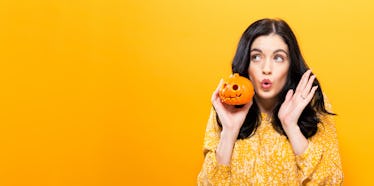 10 Things Every Halloween Lover Can Relate To When You're Always Creepin' It Real
Once the end of the summer rolls around, I'm already in the Halloween spirit. I'm going back and forth between costumes, and planning out every autumn weekend with haunted houses, pumpkin patches, apple picking, and Hocus Pocus marathons. I'm obsessed with this time of year, and I know there are things every Halloween lover can relate to. When I find someone who also enjoys the "Monster Mash" just as much as me, and wants to go running into a haunted house rather than away from it, I know these people are my kind of people. Forget Christmas, we all know that fall is actually the most wonderful time of the year, and I can't wait for the Halloween season to begin.
In fact, since I feel like other holidays end up starting a little earlier each year, it's safe to say that we can start preparing for All Hallows' Eve. So, for my fellow Halloween lovers who deal with these 10 things every year, we can finally break out the decorations, start eating candy corn, and gathering the materials for our award-winning costumes. I say, "When you've got it, haunt it," so get ready to have a wickedly fangtastic Halloween season.