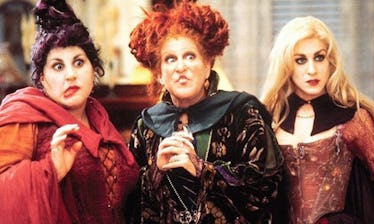 Freeform's 13 Days Of Halloween Is Officially Turning Into A Month-Long Event
Disney
Just because you have nearly six months to decide on a Halloween costume (please don't be Yodeling Walmart Kid) doesn't mean you can't get pumped for October's spookiest holiday now. Freeform — everyone's fave festive network — always knows how to do Halloween right and this year they're making a change to their programming slate that will have you celebrating all month long. Freeform's 13 Days of Halloween is being extended to 31 Days of Halloween as of 2018, so mark your calendars and clear your fall schedule.
If sipping pumpkin spiced everything and watching creepy movies throughout October is your thing, you're in luck. Freeform announced May 15 at their upfront presentation that the eeriest month of the year is going to be even more full of Halloween-centric classics from now on. And in addition to dominating your autumn TV time, the network will also air its cozy 25 Days of Christmas block throughout December, plus a Kick Off to Christmas lineup in November. Aaaand I officially have plans for three months. Nice. Hold my calls, please.
2017's 13 Days of Halloween schedule included movies like The Addams Family, Teen Witch, ParaNorman, Sleepy Hollow, and the ultimate trick or treat adventure, Hocus Pocus.
Speaking of Hocus Pocus, Freeform's official 31 Days of Halloween account tweeted that fans should expect a "25th Anniversary Extravaganza" this fall.
31 Nights of Halloween will also debut the new series Decorating Disney: Halloween, which "will reveal all the tricks and treats behind the transformation of the Walt Disney World and Disneyland resorts into the scariest, yet still magical, places on Earth."
As for later in the year, Freeform stated that two original films will be a part of their holiday lineup — Life-Size 2 and Sleeping Together. Life-Size 2, of course, is the highly anticipated follow-up to the very important 2000 Tyra Banks and Lindsay Lohan comedy where a doll is transformed into a live human.
Banks herself recently confirmed that Lindsay Lohan will indeed be returning for the long-awaited sequel. The star and exec producer also divulged to Buzzfeed in April that the second film is more grown up than the original. "Life-Size is going to be different. So, if you were a little girl or little boy like, 'Oh my God, I love Eve. She's so cute,' and you have kids now, you might need to use a little parent discretion on whether they should be watching Life-Size 2 or not."
Sleeping Together is described as "an unexpected and whimsical holiday rom-com about two insomniac strangers plagued by exhaustion. After a brief meeting, they discover that they can only fall asleep if they are sleeping next to each other. What seems like an odd coincidence, and frankly a disruption to their lives, might be more meaningful than they'd like to admit."
Put whimsical and holiday and rom-com in the same sentence and you've already got a viewer in me. Check! Check! Check!
Freeform shared that it has another comedy from Black-ish creator Kenya Barris in the works. Barris is already behind the collegiate spinoff Grown-ish, which premiered on the network in January. The new series Besties "explores friendship, identity, race, and class as two lifelong best friends use each other to get through some of the toughest challenges that they will ever face — figuring out who they are and who they want to be."
If you're a Siren fan, Freeform's got more good news. The network revealed they're picking up the mermaid drama for a second season.
It isn't even officially summer yet and now I've got colder months on the brain. Here's to another year of watching Hocus Pocus and Home Alone 2 on repeat.