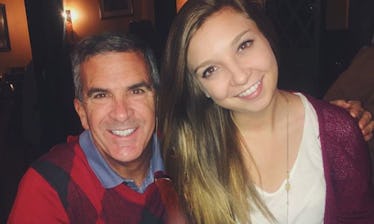 I Asked My Dad What He Wants For Me In A Man & His Response Made Me Tear Up
Genevieve Wheeler
Like any great father, my dad wants the best for me in all things — from breakfast foods to education to partners (of course). Though, I'd never asked outright what my dad wants for me in a man. At least, I hadn't until this past weekend.
Before I dive into his adorable (and very dad-like!) response, there are a few things I should note. You see, my parents split up when I was 10, and two years later my mom and I moved several states down the East Coast, from New Jersey to Florida. My dad would fly down for monthly visits and trips to Disney World, but he wasn't around to vet my high-school love interests, which I think he's always wished he could have done. (Oh, but when he eventually met my first boyfriend, he started "sharpening" steak knives in the middle of Olive Garden. He was very excited about it.)
Also, historically speaking, I don't have the greatest taste in guys. My "type" has often included men who insisted I pay for their meals; mocked my fierce interests in Friends, Beyoncé, and the royal fam; and held staunch political views that seriously differed from my own (my last boyfriend low-key believed that Sandy Hook was a conspiracy, so...). Basically, a scrub is a guy who can definitely "get some love from me." My mom recently described my dating history as "a little wonky," while my dad claimed a few of my exes were, and I quote, "a bunch of little sh*ts." So, there's that.
But we're moving onward, upward! Onto both better guys and better Italian restaurants! And, as my taste in gents seemingly (and hopefully?) improves, I wanted to find out what my dad hopes I find in a future partner. So, when I called him for our weekly Sunday chat, I was curious and eager to hear his thoughts — especially as the kind of daughter who frequently makes statements like, "Yes, hello, Dad, I went on a great first date and I think I'm married now?!" (much to his concern and chagrin).
Here's what he had to say.