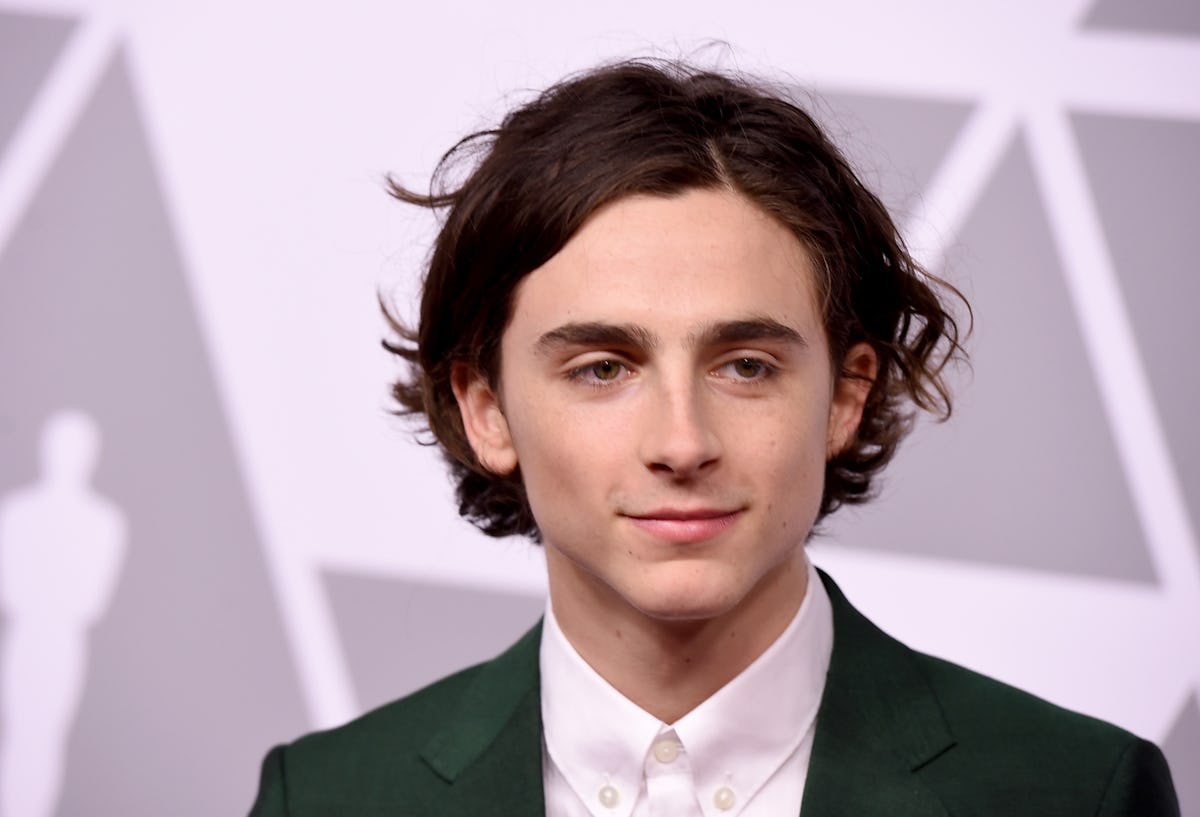 Here's Everything You Need To Know About Timothée Chalamet Before The Oscars
Kevin Winter/Getty Images Entertainment/Getty Images
You could say that Timothee Chalamet had a successful 2017. The 22-year-old actor turned heads with his star performance in Call Me By Your Name, Luca Guadagnino's romance drama, and a supporting role alongside Saoirse Ronan in Lady Bird. At the Oscars on Sunday, Chalamet will be honored for his work in both films, and after watching the young actor shine in two different coming-of-age romances (and melting our hearts all awards season long), we have a very important question: Is Timothee Chalamet single?
The short answer is yes, Timothee Chalamet is blessedly single. He brought his sister Pauline as his date to the Golden Globes, so it's safe to assume that the young actor's love life is pretty quiet right now. However, Chalamet has had serious relationships in the past, including one with Madonna's daughter Lourdes Leon. The then-teens met in 2013 while attending Fiorello H. LaGuardia High School of Music & Art and Performing Arts, otherwise known as the Fame school, in New York City. At the time, Chalamet was working on Homeland, but he managed to get the night off to celebrate the premiere of the documentary Madonna: The MDNA Tour, where he and Leon didn't shy away from making out right in front of the pop icon. Chalamet and Leon broke up shortly after, but they remain close. In November, the actor told Andy Cohen that even though Leon hadn't yet seen Call Me By Your Name, she was teasing him about its popularity. "She teases me about it ... It's like the public appearance stuff about it or some of the late night things I've done, I'll get made fun of," Chalamet said about his famous ex.
Even though Chalamet is currently single, it won't be hard for the actor to find a date once he's interested. The 22-year-old speaks fluent French (he's half-American, half-French) and even committed to learning Italian for Call Me By Your Name. In the film, Chalamet plays Elio Perlman, an American-Italian teenager who falls in love with Oliver, Armie Hammer's character. Chalamet arrived early to production to get the Italian correct in the film, a process he described to Newsweek as incredibly difficult:
I went to Italy about a month and a half early for the film, taking Italian lessons every day in addition to piano and guitar lessons ... Learning the Italian was tough. I tried to really come at from a purist perspective, really learn the grammar, syntax and conjugations. And I'm proud of the job I do with the Italian in the movie.
Chalamet's chemistry with Armie Hammer in Call Me By Your Name is nothing to sneeze at, either. Throughout the film, Elio and Oliver get deeply personal with one another — both physically and emotionally — and Chalamet and Hammer's close bond has transferred off screen, as well. In January, Chalamet told Jimmy Fallon that Hammer is his "brother now," before describing the complete lack of boundaries the two dudes have post CMBYN. "He's in bed with his wife last night, I'm in his hotel room, and I don't know what gave me like free license, but I was like, 'Ah! I'm gonna get in there with you guys!'" OMG, same. "Seriously. Those guys are like family now. I swear to god," he told Fallon.
Chalamet and Hammer's emotional connection inspired much of the Oscar buzz surrounding the film (and earned Chalamet his Best Actor nomination), but the duo told Ellen Degeneres in November that things weren't so comfortable at first. The first day they met, the actors rehearsed one of the film's most pivotal scenes: Elio and Oliver's first makeout. "We're making out and making out and no one's saying stop," said Hammer. "And all of a sudden, we both kind of stop and look, and Luca had just walked away and left us right there, rolling around in the grass ... It was a bit of an icebreaker." Chalamet chimed in, telling Ellen that their rehearsal "destroyed the ice."
Clearly, Chalamet has chemistry with basically anyone — even a peach, as we can see from the fruit-oriented sex scene that broke the internet — so we're thinking that his single status won't last long.