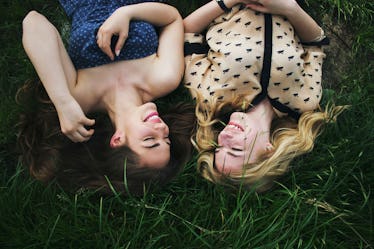 How Your Relationship With Your Cousin Changes From Your Teens To Your 20s
All relationships are different, but individually, they tend to change over time. You and your bestie from first grade aren't necessarily swapping your chocolate pudding and pretzels at lunch anymore, and you've made some new friends along the way. It's all part of life, and doesn't mean that split heart bracelet is any less significant. In fact, when your friendships go through these changes, they become stronger and deeper. When you're in your 20s, you'll notice how your relationship with your cousin changes, in particular. She's the family member who became your best friend. But, you two aren't teenagers anymore.
Back in the day, you'd be causing all sorts of trouble together at the family holiday parties. She's always been your partner-in-crime, and your relatives knew to brace themselves for that initial squeal when you two were reunited for the first time in what felt like forever. You'd anxiously await her arrival, and would wear that new cute outfit you got at the mall the week before, so she could see it in person. (Sometimes, endless FaceTime calls and text messages just aren't enough, you know?)
Now that you're 20-something, so many aspects of your life feel different. You look back on pictures from when you were in high school and think, "Wow, I was so young!" You still are, but you're also well on your way to being an adult. You'll notice lots of changes in your relationships, including these seven between you and your cousin.