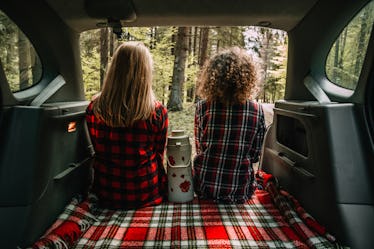 7 Weekend Trips To Take With Your Cousin When You Need A Sweet Escape
Is it the weekend yet? The answer to that question is always "almost," and you'll want to have your plans prepped so that you really don't waste a second of it. We could spend our Saturdays catching up on some much-needed sleep, or do some self-care on Sunday like all the cool kids. But, the weekend is meant for adventure, so don't miss out on all of those memories you could make. You're in the mood for some quality family time, and maybe even a road trip. These weekend trips to take with your cousin will be the sweet escape you're really looking for after a long work week.
Cousins are the most underrated travel buddies. When it comes to your family, they're some of your favorite people to hang out with. But, for whatever reason, you never seem to follow through on all of your plans. This weekend is your chance to change that — and you'll want to pack a camera to document all of the solid memories.
Seriously, you could go to your cousin with just about anything — adventures included — and they'd be a listening ear and spontaneous sidekick just the same. Even the ones who live far away want to keep close and spend some time wandering around with you.
The world is wide, so it's no wonder that you're having so much trouble deciding on where to go. After a long week, you need a serious escape — and you and your cousin should consider one of these seven trips for a weekend well-spent.