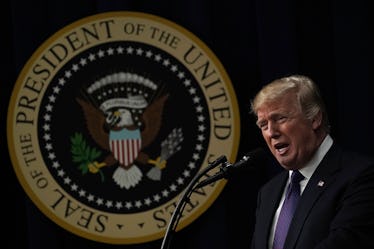 Here's How To Stream The State Of The Union, Because You Won't Want To Miss This
Alex Wong/Getty Images News/Getty Images
At 9 p.m. ET on Tuesday, Jan. 30, President Trump will take the podium for his first ever State of the Union address and let the country know how he thinks we're doing and how he plans to move forward. It's sure to be, um, interesting. So, want to know how to stream the 2018 State of the Union so you don't miss any of the action? I've got you covered.
If you are looking to watch the State of the Union online it will be streamed directly from the White House YouTube channel, according to Metro. CNN also has their own channel constantly livestreaming on their site and viewers can tune in there for the State of the Union.
UPDATE: For Spanish speakers, Noticias Telemundo will also be livestreaming the State of the Union speech on NoticiasTelemundo.com and the Noticias Telemundo social media accounts, including Facebook, Twitter and YouTube, plus the news network's mobile app, according to a press statement. The speech will be translated into Spanish in real time.
EARLIER: This will be Trump's first speech to Congress since his joint address back in February of last year, in which he addressed Congress for the first time. However, a State of the Union speech is given after a year of the presidency. The State of the Union will take place in the House chamber of the U.S. Capitol in Washington D.C.
Now that you know when it is and how to watch it, you might also be wondering what it is exactly. Well, according to the United States Constitution,
[The president] shall from time to time give to the Congress Information of the State of the Union, and recommend to their Consideration such measures as he shall judge necessary and expedient.
That's basically just a fancy way of saying that Trump will get up there and tell Congress how he thinks everything has been going, and tell them what he wants to see happen and what he thinks the most important steps are moving forward.
Trump's first year as president has been tumultuous, to say the least.
His term started with the Jan. 21 2017 Women's March, a history-making protest, and his proposed ideas have upset a lot of people. In his short tenure in the White House, Trump has signed a travel ban barring refugees as well as people from several Muslim-majority countries from entering America. In July, Trump also proposed banning transgender people from serving in the military. Most recently, in a White House meeting on Jan. 11 Trump reportedly referred to Haiti and African nations as "sh*thole countries."
"Why are we having all these people from sh*thole countries come here," the President reportedly said. Trump later denied using the reported language.
The internet was obviously not having any of that.
People on Twitter aren't the only one's upset with Trump's latest slipup.
In fact, there are at least five House Democrats planning to boycott the State of the Union because of Trump's reported "sh*thole countries" comment. Reps. Frederica Wilson, Pramila Jayapal, John Lewis, Earl Blumenauer, and Maxine Waters won't be attending the State of the Union, according to The Hill.
In a recent appearance on MSNBC, Waters explained the boycott. She said,
Why would I take my time to go and sit and listen to a liar? Someone who lies in the face of facts, someone who can change their tune day in and day out. What does he have to say that I would be interested in?
In addition to those House Democrats, there is also a group of female Democrats, led by Congresswoman Jackie Speier, who will be attending the State of the Union dressed in black and urging other members of Congress to follow suit. The wearing of black is meant to show solidarity with the #MeToo and #TimesUp movement, and make a statement about sexual harassment in politics, Spier told NBC News.
Trump has been accused of sexual misconduct by more than a dozen women, not to mention the infamous "grab them by the p*ssy" tape (the official White House position on the allegations are that the president's accusers are all lying). So wearing black is relevant whether it's on the red carpet at the Golden Globes or sitting in a room with fellow members of Congress.
I have no idea what this State of the Union is going to look like. Many of us are probably too afraid to watch, but it is important to tune in in order to know what the future for our country looks like. Especially when there are still, as always, changes that need to be made.