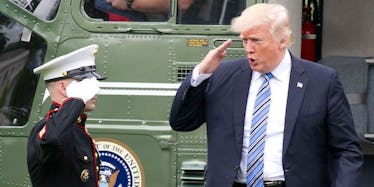 The Military Responds To Trump's Ban On Transgender People Serving
Ron Sachs-Pool/Getty Images
Following an abrupt announcement of a change in policy made by President Donald Trump on Twitter, the military has responded to Trump's ban on trans service members. The U.S. Department of Defense has a brief statement on the news.
The statement, obtained by Elite Daily, comes from Captain Jeff A. Davis, Director of Defense Press Operations. His statement reads,
We refer all questions about the President's statements to the White House. We will continue to work closely with the White House to address the new guidance provided by the Commander-in-Chief on transgender individuals serving the military. We will provide revised guidance to the Department in the near future.
Defense Secretary James Mattis, meanwhile, is on "personal travel" this week, according to Politico, perhaps pointing to the abruptness of this Twitter announcement. A ban on transgender people in the military was undone last year. In June, Mattis announced that he would wait six more months to review that policy change.
Meanwhile, some veterans have responded to the news of Trump's ban on transgender people serving in the military.
Retired Army Sergeant Shane Ortega, who was the first out trans soldier to serve in the U.S. military, spoke with Mic about the announcement. He said his first thought was, "F*ck!" Ortega told Mic,
Trump is a man who is literally a war-dodger, who comes from a life of privilege and silver spoon, who has no connection to reality whatsoever, and I don't know how much more the American public needs to see that.
Meanwhile, Kristin Beck, a retired member of Navy SEAL Team 6 who is transgender, told Business Insider about Trump,
Let's meet face to face and you tell me I'm not worthy. Transgender doesn't matter. Do your service.
Chelsea Manning, a former Army soldier sentenced to prison over WikiLeaks who is transgender, has been outspoken on the ban. Manning's sentence was commuted by President Barack Obama at the end of his term as president.
Manning particularly took issue with Trump's assertion that the decision was over medical costs.