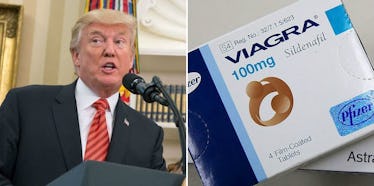 Trump Says His Trans Military Ban Is Because Of Costs, But Viagra Costs More
Chris Kleponis/Christopher Furlong/Getty Images
On Wednesday, July 26, President Donald Trump announced he's banning transgender people from serving in the military. Trump cited "medical costs and disruption" as the justification for this move. But, research doesn't support this assertion.
In fact, the military spends less on medical care for transgender troops than it does on Viagra, which helps treat erectile dysfunction, the Washington Post reports.
A 2016 study from the RAND Corporation found providing transgender troops with gender-transition-related medical treatment would cost the military between $2.4 million and $8.4 million annually. That represents, at most, a 0.13% increase in spending.
Meanwhile, the military spends $84 million annually on Viagra, according to The Military Times.
The United States has the highest military budget in the world by far -- roughly $600 billion. There's a very strong case to be made it could easily afford to provide medical treatment for transgender troops.
The Pentagon is also notorious for wasting money. It was recently reported, for example, that it blew $28 million on uniforms for Afghan soldiers that were the wrong camouflage pattern for the region.
Trump's claim transgender people cause "disruption" in the military is not supported by research, either.
The RAND study, cited above, also showed 18 countries allow transgender people to serve openly in the military with "little or no impact on unit cohesion, operational effectiveness, or readiness."
These countries include major U.S. allies: Australia, Canada, Israel, and the United Kingdom.
It's estimated that as many as 15,000 trans people currently serve in the U.S. military.
Following Trump's announcement, trans veterans began to speak out.
Speaking with Business Insider, Kristin Beck, a 20-year veteran of the Navy SEALs who is transgender, asked Trump to meet her "face to face and you tell me I'm not worthy."
Long story short, Trump's justifications for banning transgender people from the military don't add up.