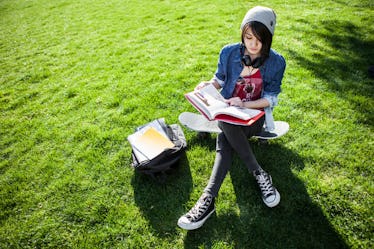 Experts Reveal How To Create A Stress-Free College Routine To Control Some Of The Chaos
Aside from the fact that May 2019 will mark a whopping six years since I graduated college (be still, my beating heart), I still get those same warm, fuzzy, back-to-school feels every September. I guess I never really grew out of the mindset that summer is this magical time when everything feels significantly more relaxed, and the grind kicks back up again in September. But, honestly, I lived for the chaos that is the first month of college. I looked at it as a clean slate, a time to figure out how to stick to a routine in college, despite how unbelievably full my schedule would become by the time classes started. Trust me, I know it's not always easy, especially when you consider what being a college student actually entails — classwork, internships, club commitments, and social events — but nailing down a routine you can follow mostly, if not always to a T, will make the semester a whole lot easier to navigate and enjoy.
According to the JED Foundation, a New York-based nonprofit organization working with teens and young adults to sustain their mental health and prevent suicide, over 80 percent of college students in 2017 said they felt overwhelmed by and exhausted from their busy schedules. I know myself, and I totally sympathize: Junior year of college was by far my busiest; I was juggling four classes, an internship in the city that I worked at twice a week, a part-time job as a waitress, a role as the opinions editor for my school newspaper, and I was going out with my friends, on average, at least three times a week. I was living my best life, but I was also living my busiest life. In college, there's so much to do, so much you want to do, and sometimes, it honestly feels like 24 hours is not nearly enough to get it all done. But that, my friend, is where having at least a semi-consistent routine comes in handy.
"Developmentally, during our college years, we are at the stage where it is essential for us to determine where we are going in our career and who we are as individuals," Dr. Danielle Forshee, LLC, a doctor of psychology and licensed clinical social worker, tells Elite Daily over email. "In order for us to accomplish this task, we need to feel personally successful in our daily lives," which is why, she says, structure and routine are so important; these things help you feel "accomplished and productive," Forshee explains.
To stick with a routine this year, and every year thereafter in life, here are a few expert-approved tips that will bring you structure and combat stress.