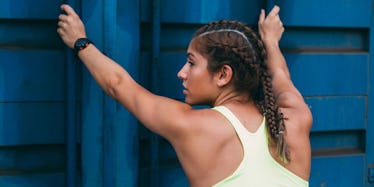 A Celebrity Trainer Reveals The Benefits Of Exercise You Don't See & They're Everything
When you work out consistently for a while, noticing newfound strength, endurance, and even those baby muscle gains, it's such an awesome and satisfying feeling. All your hard work and dedication is paying off, and you can quite literally see the physical transformation happening before your eyes as your body gets stronger and stronger. What honestly isn't emphasized enough, though, are the benefits of exercise that you don't see. Mentally, emotionally, and spiritually, your daily sweat sessions are changing you in the most powerful way. Do you feel it?
Autumn Calabrese, a celebrity fitness trainer and creator of the 80 Day Obsession workout plan, tells Elite Daily that while the physical changes a person experiences from a regular fitness routine are obviously great in their own ways, there are a lot of positive changes that happen that you don't see, and that benefit your day-to-day life tremendously. Hitting up your favorite instructor's SoulCycle class, lacing up your sneakers and pounding the pavement outside, or rolling out your mat at home for a blissful yoga flow are all things that can elicit small, yet significant long-term changes. They aren't necessarily tangible or visible, but they're arguably even more important than anything you'll be able to see in the mirror.
Here are five important benefits of exercise that you won't be able to see on the outside, but will make you feel pretty awesome on the inside.