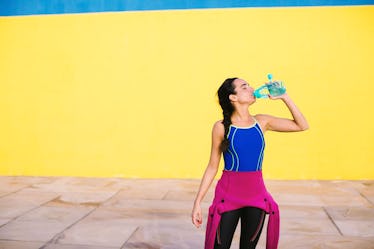 A Personal Trainer Reveals The 5 Easiest Ways To Work Out More When You're Busy AF
Going to the gym for an hour each day sounds incredible in theory, but for some people, it's just plain unrealistic. If you're someone who's painfully busy at all times, it can honestly seem like the victory of the century just to have time to cook a decent dinner, or a few minutes to FaceTime your long-distance bestie, let alone find time for a workout class or a trip to the gym. The thing is, though, exercise doesn't have to be time-consuming at all. There are countless easy ways to exercise more, without feeling like you're sacrificing other parts of your life in the name of fitness.
Now, when I say "some people" have trouble finding time in their day to work out, I actually mean roughly 75 percent of Americans — seriously. A new report from the Centers for Disease Control and Prevention's National Center for Health Statistics revealed that only 23 percent of Americans currently meet the federal physical activity guidelines set forth by the U.S. Department of Health and Human Services (HHS) — which, BTW, recommend, for "substantial health benefits," that you should be doing "at least 150 minutes per week of moderate physical activity, or 75 minutes per week of vigorous physical activity, in addition to muscle-strengthening activities 2 or more days per week," the report states.
While those guidelines might seem like a lot to take on at first, this report suggests you simply start by adding more exercise into your life whenever and however you can, even if it doesn't necessarily meet the HHS standards. In other words, baby steps are better than no steps at all, and you have to start somewhere, right?
If you're looking for that "somewhere" and have yet to find it, Kelly Morgan, Ph.D., a certified personal trainer and health coach, is here to help. She's someone who works with busy women and students on the reg, so she knows a thing or two about exercising when there's little time to fit it in. Here are some of her tips for finding easy, effective ways to exercise more in your day-to-day routine.