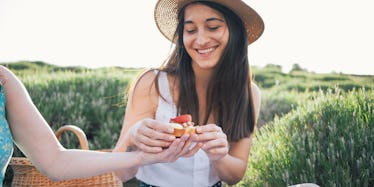 Experts Say Practicing Mindfulness Can Be As Simple As Doing These 5 Things Every Day
When you think of mindfulness, I'm willing to bet some of the images that immediately pop into your mind include yoga mats, people humming "om," and weird, transcendental music. And yeah, practicing mindfulness can include all of those things, but it can also be way less complicated than all of that. Mindfulness doesn't have to entail hour-long meditation sessions or ancient mantras that you say aloud over and over again. There are plenty of easy ways to practice mindfulness in your everyday life, because the thing is, you can be mindful at any time, anywhere — no yoga mats or spiritual guides required.
According to Lisa Sussman, LMHC, clinical director at The Palm Beach Institute, a Delphi Behavioral Health Group, mindfulness is the practice of being fully aware and grounded in the present moment, while taking into account your feelings and thoughts without judging them. Being ~in the moment~ without judgment is a skill that requires ongoing, repetitive practice, Sussman tells Elite Daily over email, but to some people, it can seem like a ridiculous amount of work that they aren't exactly willing, or even able, to take on.
Pax Tandon, a mindfulness expert and author of the book Mindfulness Matters: A Guide to Mastering Your Life, says mindfulness can sometimes be challenging for beginners because they've never actually stopped to be in the moment before. It's pretty likely that your mind is constantly running or craving stimulation of some kind, she says — you've just never realized that that's how your brain works most of the time. "But we're human beings, not human doings," Tandon tells Elite Daily over email. "We need to learn to slow down and just be present to the miracle of being alive."
The good news is, mindfulness can easily be integrated into your routine because so many of the daily tasks you might take for granted — eating, walking, listening to music — are all primed for more mindfulness. But it's up to you to challenge your mindset and truly place yourself in the present moment as you're doing these things.