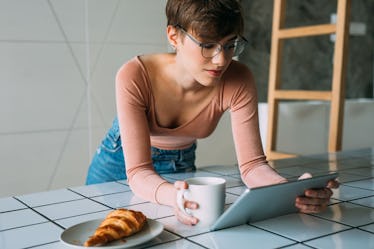 Introverts Crave Their Alone Time & These 5 Morning Habits Are Sacred To Them
Everyone has a morning routine, but it doesn't always translate to pastel yoga mats across bedroom floors or aesthetically pleasing cups of matcha, despite what Instagram might have you believe. Your morning routine is the sum of steps you take to get ready for the day: your pit stop at the café where the baristas know your order by heart, your trek to the subway, the podcast you always listen to along the way. It's not always a conscious string of events, but the morning habits of introverts, on the other hand, are generally more strategic than most, because introverts don't just get ready for school or work; they have to prepare themselves for the mental exhaustion they know and expect to feel after a long day of constant socializing.
Keep in mind, most people who describe themselves as introverted usually place a very high value on "me time," so while you might prefer to spend your days constantly surrounded by people, or feel stimulated in high-energy crowds, introverts tend to have their hard limits. To put it into perspective, doctor of psychology and licensed clinical social worker, Dr. Danielle Forshee, LLC defines introverts as reflective, reserved individuals "who prefer solace, working alone [rather] than in large groups, gain energy from ideas, and are often exhausted by social situations." In other words, introverts often require that solace to thrive, so they need a taste of that every day, not just once a week.
Unfortunately, between work and school and anything else you might have on your plate, life gets busy, and carving out that restorative alone time isn't always possible. So how do introverts find time for themselves? They squeeze a few minutes of peace and quiet into their morning routine by adopting these habits.