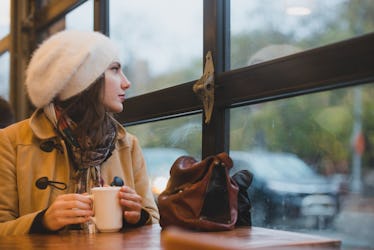 Here's How To Tell If You're Dealing With Social Anxiety, Or You're Simply An Introvert
You know how every thumb is a finger, but not every finger is a thumb? That's a good way to think about introverts and people who suffer from social anxiety. Take it from someone who identifies as such: Not every introvert wants to run and hide at the thought of social interaction. On the flip side, not every person who's socially anxious is going fall under the linear definition of an introvert. Just as allergies and colds aren't one and the same, there are differences between social anxiety and introversion, they just aren't always super obvious.
Before I jump into why social anxiety and introversion aren't necessarily synonymous, you should know, first and foremost, what it really means to be either one. In an exclusive interview with Elite Daily, Michael Alcee, Ph.D., a clinical psychologist based in Tarrytown, New York, explains that introverts are people who "derive their energy and fuel by steeping themselves in the inner world of ideas and imagination." Someone who suffers from social anxiety, on the other hand, is less focused on their energy, and more concerned with social situations, Alcee says. They have an excessive fear of potentially being "negatively evaluated" in these atmospheres, to the point where they become "disproportionately sensitive," and paranoid over the "possibility of rejection," according to the clinical psychologist.
I think it's safe to say that, whether you identify more as an introvert or as someone who has social anxiety, both parties are dealing with some pretty heavy stuff. And while you can absolutely struggle with both introversion and social anxiety, the two aren't always a package deal. Here's how to spot the key differences.