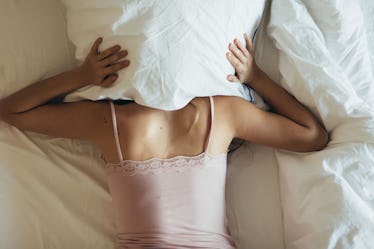 "Introvert Hangovers" Are A Real Thing & Here's How To Know You're Dealing With One
How's your social calendar looking these days? With summer on the horizon, and that little ray of sunshine icon finally making an appearance on your weather app, it's likely your weekends are about to get jam-packed with plans. If you're an extrovert, then you're probably pumped for barbecues, afternoons by the pool, and long weekends at the beach, but if you're an introvert, just the mere thought of penciling in events can be exhausting. Imagine waking up the morning after a long night of cheers-ing margarita after margarita with friends; that's what an introverted hangover feels like, only instead of a few rounds of margs, you're recuperating from an overabundance of social interaction.
Introverts can be truly fascinating people, because while many of them certainly thrive off of "me" time and introspection, being introverted isn't necessarily synonymous with being socially anxious, or loathing all social interactions. Being introverted just means you have your limits when it comes to how much time you're spending with others.
According to clinical psychologist Michael Alcee, Ph.D., an introvert can generally be defined as someone who requires a very specific amount of social interaction, balanced with "a regular supply and connection to their inner energy." Without that balance, he tells Elite Daily, an introvert may become seriously "drained and unmotivated," which more or less describes exactly what an "introvert hangover" is: a feeling of being drained and mentally checked-out after a lot of socializing.
What's more, says Dr. Danielle Forshee, LLC, a doctor of psychology and licensed clinical social worker, is that how an introvert prefers to recharge is a very subjective thing: "Each introvert knows based on a subjective feeling when it's time to exit the party and go home," she tells Elite Daily, and only they know "how much gas is left in their gas tank of being able to extend energy in energizing others."
When it comes to identifying those signs of when an introvert is on the brink of a hangover, though, those are practically universal. If you're still not sure when to call it, here are a few tell-tale signs your introverted nature is telling you to retreat and recharge.