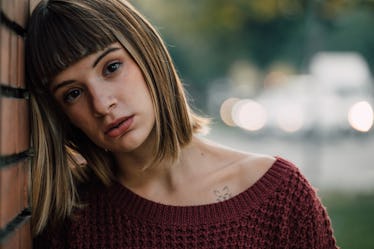 5 Legitimately Fun Ways To Spend Valentine's Day If You Just Got Dumped
I don't know what kind of monster dumps someone right before Valentine's Day, so if this happened to you, I'm truly sorry. I'll skip the speech about how you don't need a person like that in your life anyway, because I'm sure that's what everyone else you know has already told you. If you were broken up with right before Feb. 14, or if you are — shudder — actually dumped on Valentine's Day itself, the holiday can still be salvaged. There are plenty of ways to spend Valentine's Day if you're newly single.
A lot of people I know choose to spend the day before V-Day with their close friends — a tradition commonly referred to as Galentine's Day. In my opinion, getting all of your girlfriends together to celebrate empowerment and strong female friendships is a much rarer experience than going out to a nice dinner with your boyfriend or girlfriend. Unless you're in a LDR, you can pretty much do that any night, without the added pressure of it being Valentine's Day.
So if you happen to be single and heartbroken come Feb. 14, try not to spend the whole day (or the weekend before, since the 14th falls on a Wednesday this year) wallowing in bed. Dry your eyes, blow your nose, and enjoy time with those you love... which should always include yourself.
1. Celebrate Your Freedom
If you haven't spent the last few weeks watching every Fifty Shades Freed trailer on repeat, that's fine... but also what are you doing? The third and final installment of the Fifty Shades franchise hits theaters on Friday, Feb. 9, and you know I'm going to be first in line. This movie is the perfect activity for you and your single friends on Valentine's Day weekend. Afterwards, go out for drinks and have a tipsy discussion about which aspects of the film you thought were ridiculous — and which you'd be willing to try.
2. Cuddle With Some Cuties
I'm pretty sure playing with puppies and kittens is the ultimate dream no matter what your relationship status happens to be. Volunteer at an animal shelter this year and spread the love to adorable animals who really need it. You'll definitely be tempted to go home with a new furry friend, but only do so if you've actually thought about your decision. If you're not ready for the responsibility of owning a pet, you can always make volunteering at shelters a more regular thing.
3. Treat Yo' Self
Couples massages are overrated. Other people just make it more difficult to relax. Go to a spa alone and reward yourself with all the treatments you actually want. Get a mud wrap or a hot stone massage to relieve all the leftover tension from your breakup. Ask for extra cucumber water, because you deserve it. If you're on a budget, opt for a mani/pedi instead. By the time you walk out of there, you'll look and feel like a brand new woman.
4. Hit The (Dry) Bar
A blowout is just the kind of thing you should splurge on every once in a while. They leave your hair feeling healthy and fabulous, and knowing you look your best boosts your confidence so much so that you don't feel bad about posting a million selfies to your Snapchat story. You won't have to style your hair for at least three to five days, though some people can make their blowouts last up to a week. Consider booking an appointment at DryBar, which has locations in a number of states across the country.
5. Host A Game Night
Gather your single friends at your place for an evening of games. Cards Against Humanity, Say Anything, What Do You Meme, and essentially any drinking game are all great choices to keep you laughing throughout the night. One of my personal favorite games is Bowl of Nouns, which is kind of like a Charades/Taboo mashup. All you'll need is the game rules, a bowl, some paper, and a few pens. Whatever you choose to play, you'll be so busy having fun that you won't even have time to think about the breakup.
Valentine's Day is a celebration of love, and you will love celebrating with any of these five options. Whether you'd prefer to take yourself on a date, or decide to spend time with other single friends, this might just turn into your best V-Day yet.
Check out the entire Gen Why series and other videos on Facebook and the Bustle app across Apple TV, Roku, and Amazon Fire TV.
Check out the "Best of Elite Daily" stream in the Bustle App for more stories just like this!