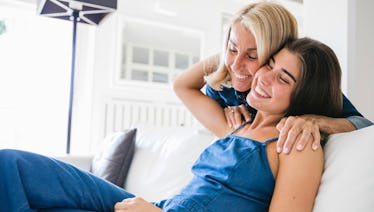 How To Make Mother's Day Special If You Can't Be With Your Mom, Because She Deserves It
In kindergarten, I sloppily pressed my paint-covered hand onto a piece of construction paper, scribbled my name under it, and gave it to my mom for Mother's Day. She was delighted. In third grade we upgraded to a milk bottle vase covered in string. Again, delighted. Even though my Mother's Day gifts got progressively more "adult" as I did, one thing has been consistent: We've celebrated together. But this year, I moved from my hometown — thus, our first Mother's Day apart, like, ever. If you're wondering how to make Mother's Day special if you can't be with your mom, literally, same. And as someone who's going through it for the first time, I'm the first to say that it's already hard enough to miss your momma, so it's even harder on the day that the whole world celebrates moms.
But just because there are miles (and maybe even oceans) between you, doesn't mean you can't make the day special. You might not be there physically, but there are several ways to honor your mom that will make her almost as happy as having you there IRL.
Of course, if you live close to your mom, and you don't have any plans on Mother's Day, the best way to make the day special is probably to just be together. Take your mom to brunch, get massages, gift her a soy candle — you know, just mom things. There's a good chance that she'll value spending quality time together over any material thing you can give her, especially since the hustle and bustle of everyday life makes it hard to just enjoy each other's company. But if you don't live close by, and you still want to make sure your mom feels like the queen she is, here are a few ways to create a special day, long-distance style.