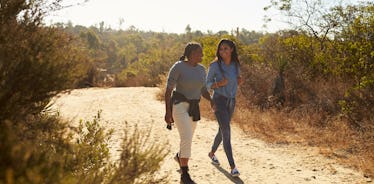 21 Mother's Day Quotes For Instagram That Show Just How Much You Care
Shutterstock
It's that time of year again to find the sweetest pic for your Mother's Day post on the 'Gram. I love any excuse to brag about how awesome my mom is, so you know I'm going all-out on this very special day. Finding the perfect words for your caption can be such a struggle, unless you have some Mother's Day quotes for Instagram prepped before you post.
Finding just the right pic of you and your mom is already tough enough. When you can only select up to 10 photos in one post on IG, you have to pick and choose which of the cute selfies and throwback snaps you want to share. Don't let the caption writing be another hurdle.
There's so much you want to say about how incredible your mom is, and how blessed you feel to be her daughter. When it's hard to edit yourself down, don't fret. The tough work has been done for you. This handy list of Mother's Day quotes is ready for you to use when you're celebrating your favorite person.
So, instead of spending Mother's Day struggling to write the perfect caption for Mom, just use any of these 21 Mother's Day captions. They might perfectly express how you feel, so you can use them to post without hesitation. Then, get back to hanging out with the coolest woman in the world: your mom.
1. "You will always be my mother, and forever my best friend."
2. "Sippin' tea and spilling the tea with my bestie."
3. "Life doesn't come with a manual, it comes with a mother."
4. "Always having a grape time with this woman."
5. "Mothers are like buttons, they hold everything together."
6. "So much love for mama bear."
7. "Who needs another superhero movie when I have a badass mother like you?"
8. "Home is where my mom is."
9. "You were right, always, Mama."
10. "Dear mom, all the best parts of me, I learned from you."
11. "To the world you are a mother, but to your family you are the world."
12. "OMG, my mother was right about everything."
13. "My mom is not just a mom. She is my first friend, my best friend, and my forever friend. She wears many hats."
14. "Out of all the moms in the world, I'm so glad you are mine."
15. "Mom, I know I'm your favorite, and just so you know, you're my favorite, too."
16. "I have the coolest role model in the world and I'm not sharing."
17. "I'm your daughter, and that's the greatest gift of all time."
18. "Nothing is really lost until your mom can't find it."
19. "My favorite place in the world? Oh, that's an easy question, it's being right next to my mom."
20. "I'm so lucky to have you as my mother. I'm sure no one else would have put up with me this long."
21."The cool mom right here."
This article was originally published on