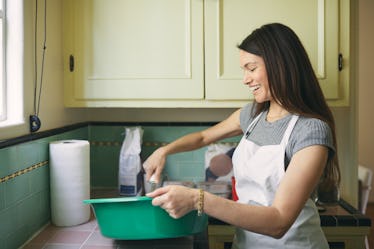 Cookie Dough Bread Exists & People On TikTok Are Totally Here For It
Cavan Images/Cavan/Getty Images
In the past few months, your kitchen utensils and appliances have been put to work. You've spent entire afternoons baking sourdough bread or delicious chocolate chip cookies. Now, you're ready to learn something more advanced — aka, how to make cookie dough bread — and be more like the creative bakers on TikTok.
Thanks to those bakers who have posted tasty recipes measuring out the correct ingredients and showing close-up shots of the final results, you can confidently say that you're not a cooking novice. When mixing your dry ingredients like flour, salt, and baking soda, you know exactly which whisk and measuring cups to reach for. You've mastered epic skills such as flipping a pancake at the perfect time and speed, and cracking an egg in a way that doesn't let any pieces of the shell fall into your bowl. But, if you didn't watch those TikTok videos over and over again, you may have been a little lost, or never known that foods like cookie dough bread are a thing.
Spoiler alert: Cookie dough bread does exist, and it's fairly easy to make. Grab a bag of chocolate chips, a jar of cookie butter, and your chef's hat. Give these five recipes a try, and channel all the creative bakers on TikTok.