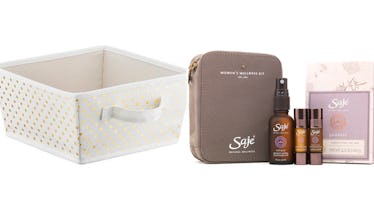 How To Make The Perfect Mother's Day Gift Basket, Because One Present Isn't Enough
Target/Saje
I don't mean to brag, but I'm pretty much the queen of gift baskets. This probably stems from the fact that I can't just buy a loved one a single gift and be satisfied (to my husband's dismay); I have to make a whole production out of birthdays and Christmas gift-giving with a compilation of goodies that fall under the same theme. So if you're wondering how to make a Mother's Day gift basket for your mama this year, instead of summing up all that love and affection you have for her in one neatly packaged box, gift card, or bouquet of flowers, you've come to the right place.
The first, and probably the most fun step, is to set a theme. What makes your mom unique? A good starting point would be to make a list of her hobbies or interests. If she's really into music, for example, take note of her favorite bands so you can scope out some memorabilia. If she's a pro in the kitchen, sweep through her drawers and cabinets and jot down some cool gadgets she might be missing from her stash. Or, you can keep things really simple and stick with a general all-things-mom theme, where the only rule is, if you think she'd love it, you add it to the pile.
Next, set a practical budget. Trust me, I completely understand that, once you start adding things to your digital shopping cart, or strolling through the aisles of T.J. Maxx or HomeGoods, it can take every ounce of self-control to resist a good find. However, moms understand, better than anyone, the need to spend responsibly. So pop into your bank account, give yourself a spending limit, and shop accordingly, my friend.
Now the real fun begins. Browse online and in-store for the best trinkets and presents your mom will adore. To get you started, here are a few no-fail gifts any mom is sure to love.