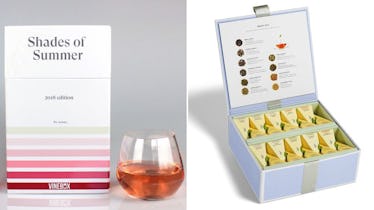 Let Your Mom Know How Much You Love Her With These Thoughtful Mother's Day Gifts
VINEBOX/Tea Forté
Mother's Day is quickly approaching, and I don't know about your mama, but I'm pretty sure mine is all flowered out. That's not to say my mom doesn't appreciate a gorgeous bouquet of roses (actually, she's allergic, but that's beside the point) or a box of raspberry chocolate truffles, but I'd imagine that the same stems to cut and the same fillings to taste could get old after 20-something years. It's 2018, friends, which means a new year, a new you, and a new gifting style. It's time to put in some real effort to find thoughtful Mother's Day gifts that will mean almost as much to your mom as she does to you, instead of opting for yet another gift card or drugstore candy box. After all, no one deserves a heartfelt gift more than she does.
I'll admit, I'm a bit of slacker when it comes to picking out gifts for the more obscure holidays like Mother's Day and Father's Day, but the truth is, I really do love shopping for other people. I love finding great deals on items I know they'll love and get good use out of. There are also fewer things in life more satisfying than watching someone open a gift, especially my mom.
As cliché as it sounds, my mom and I really do have that sort of Gilmore Girls-esque mother-daughter relationship, so I like to show her what she means to me as much as I can, in any way I can. Every mom deserves to be spoiled on Mother's Day, so if you need a little help, the following products will definitely point you in the right direction of a thoughtful gift your mama will absolutely love.