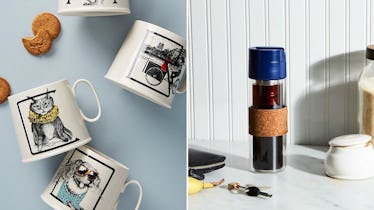 Your Mom Could Actually Use One Of These 10 Gifts For Mother's Day, So Add To Cart ASAP
Anthropologie/Food52
By the time you've managed to obtain some sort of influx of money on your own, your mom has already been through the wringer for you. From raising you for two decades, to letting you eat the food off of her plate, to allowing you to commandeer the radio, to just plain housing you inside of her body for the better part of a year, your mom has gone above and beyond for you, again and again and again. So this year, why not shop for useful Mother's Day gifts that your mom will actually enjoy well beyond the gift exchange that takes place that Sunday?
All too often, people seem to forget that mothers are also real people with real, independent thoughts, desires, and preferences that are totally unrelated to being a parent. This seems obvious, but consider this: How many times have you gotten your mom something specifically domestic for Mother's Day? Do you really think she's been hoping and dreaming all her life for yet another tablecloth embroidered with a bunch of cheesy-looking red and pink hearts?
To be fair, there are some absolutely beautiful tablecloths out there, and there's nothing wrong with a gift that celebrates your mother's role in your life. But still, it could be nice to spice things up a little bit and get her something she can actually look forward to using in her daily life. Here are 10 reasonable and useful Mother's Day gifts that your mom will totally fall in love with.