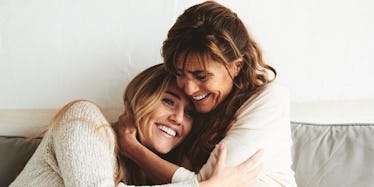 8 Unconventional Mother's Day Gifts Your Mom Will Actually Really Want
When I was little, my dad and I bought my mom a gold necklace. I don't actually remember my mom's reaction, but I recall feeling overwhelmingly happy about doing something particularly special for my "#1 Mom."
Since then, Mother's Day has been a pretty big deal. I haven't always had money to ball out on a gift, but my sister and I make it a point to come together and do something nice for the woman who raised us. Whether it's making it back home in time to attend Sunday morning church service or calling her a million times that day, I always make sure she feels appreciated.
I'm letting my sister handle the sappy Mother's Day card, but I've got the gift situation covered. This year, I'm taking an educated gift guess based on necessity.
For instance, my mother's kitchen utensils rattle around in the drawer, so I know she's in desperate need of more organizers. And, while that's like a snooze-worthy gift for anyone under the age of 25, my mom will be over the moon about it.
You can never spoil your mom too much, even though 365 days out of the year are already dedicated to her. Here are some ideas for gifts she'd really appreciate.
1. A Chatbooks account
Chatbooks, starting at $14, Chatbooks 
Memories are cherished by all, but especially new moms. Though everything lives in the iCloud, moms still enjoy hard copies of their kid's first steps caught on film. Older moms, like mine, can't even begin to wrap their head around Instagram.
Chatbooks bridges that gap by printing 60 pictures from your Instagram page for just $8. Whether your mom wants tangible memories of your last family vacay or just prefers to keep prints as a backup, Chatbooks is the answer.
Pro tip: Tech illiterate moms may need some help downloading and using Instagram, so good luck with that!
2. A monthly Turntable Kitchen subscription
Turntable Kitchen subscription, $25 per month, Turntable Kitchen 
Countless times, I've watched my mother cook while singing and dancing along to Marvin Gaye. Those childhood memories are etched into my brain. Also, good cooking and my mom are pretty synonymous.
Turntable Kitchen taps into both foodie and musical interests by pairing the arts. For $25 per month, she'll get recipes, necessary ingredients and a digital playlist delivered to her front door.
The artistic curation could make any mom tear up, especially on Mother's Day.
3. A Deep Seat garden kneeler
Deep Seat Garden Kneeler, $50, Gardeners 
I don't like to get my hands dirty, which is something I didn't get from my mom. She's a master gardener who loves being one-on-one with the soil and fresh veggies. Though she has enough outdoor tools to make Martha Stewart jealous, she's missing a comfy seat.
This $50 kneeler can protect any mom with a green thumb from back pain and knee strain. It also doubles as a bench, so your mom can sit back and take inventory of her hard work.
4. Diamond jewelry with meaning
Yes, diamonds are a girl's BFF. However, a mature woman deserves a sparkly rock with a purpose.
My mom spends a large amount of her time giving back to the community through Delta Sigma Theta, her sorority, and other charitable organizations. Because a brand like Diamonds Unleashed celebrates female empowerment and creates educational opportunities for girls, any cut from this collection is the perfect fit for feminist and socially responsible moms.
5. "Work Book" by Annie Sloan
Annie Sloan Work Book, $25, The Purple Painted Lady 
My mom's a creative hoarder of sorts. She enjoys dreaming up big ideas from the smallest moments of inspiration. Every time I go home, I step over piles of sewing, fabric and half-finished home decor projects.
With Sloan's sketchbook, artistic and imaginative moms can jot down their ideas and show off their DIY sides. Also, seeing her ideas come to life might actually help your mom finish her 15 pending projects.
6. Wine glasses that don't tip over.
Mighty Wine Glasses, $32, Firebox
My mom is famous for knocking over wine glasses, and my apple didn't fall too far from the tree, apparently.
Thankfully, this "unknockoverable" glassware is equipped with Smartgrip technology to keep even the most expressive lush from tipping her glass. To ensure the wine glasses won't fail, you probably should put this sucker to the test before your mom gets hammered on Pinot Noir.
If it works, though, she might just make you her favorite child.
7. "Call The F*ck Down" Tea
My mom's a natural-born worrier.
My sister and I have been living on our own for some time now, but she still manages to check in and make sure we arrived home safely after a party. It's a universal mom thing, so I get too annoyed by it. However, this herbal tea will serve as the much-needed chill pill she needs on those nights she's freaking out.
8. A pair of SleepPhones
SleepPhones, $32, Amazon 
Since my mom's a super light sleeper, sneaking in and out of the house in high school was virtually impossible. As she's gotten older, she cares less about me getting into trouble and more about quality sleep.
That's where SleepPhones come in handy.
The bed-friendly headphones will allow light sleepers to block out noise and fall asleep faster. Whether your mom wants to listen to smooth jazz before catching some Zs or play an audiobook, this eco-friendly technology will allow for a more relaxing, audio-assisted snooze.
Isn't a good night's rest all moms really want?