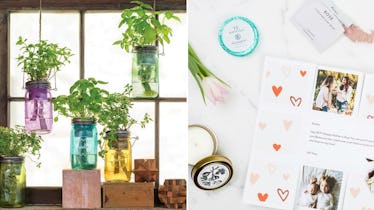 These Thoughtful Mother's Day Gifts Under $20 Won't Make Your Wallet Cringe
Uncommon Goods/Greetabl
The love you have for your mom is priceless, but when it comes to showing your affection with a Mother's Day gift, your ideas and your wallet might not see eye-to-eye. The struggle is so real. There are a million things you know your mom deserves, but you're a broke chick in your 20s who's trying to juggle a bunch of financial responsibilities. Look no further, because Mother's Day gifts under $20 are here to save the day — and they can still be just as genuine as pricier options.
You've heard your mom say time and time again she doesn't need anything for Mother's Day. You, on the other hand, aren't buying it. The only thing worse than not being able to afford that big gift for your mom is showing up empty-handed to brunch.
You can't put a price tag on being thoughtful. Your mom understands the struggles of adulting, so don't think she's keeping tabs on what you get her. These gifts that won't break the bank aren't losing their meaning because they're affordable. So, put away your credit card, because these seven gifts will make mama bear smile, and your bank account won't take a hit.