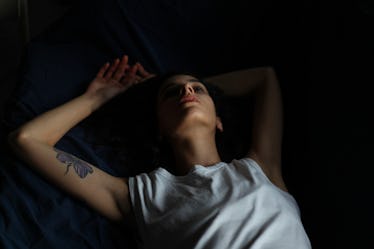 The Best Holistic Remedies For Headaches That Just Won't Go Away, According To An Expert
If you suffer from chronic headaches or migraines, then you probably have a long laundry list of strategies that you rotate through as soon as the pain sets in. Head and neck pain can be totally debilitating, and it's often harder than one would think to find relief. When popping a Tylenol won't work, and you've been guzzling as much water as your body can take, it might be time to look into some holistic remedies for headaches, which approach your pain from a totally different angle than western medicine.
According to the American Holistic Health Association, holistic medicine is defined as a form of healing that addresses the entire person — including their soul, their mind, and their body — when aiming to diagnose and resolve their pain. This means that you are trying not only to stop the pain, but also diagnose the underlying causes of the pain, which can often be psychological, as well as physical.
In an exclusive interview with Elite Daily, Dr. Susan Hutchinson, a headache and migraine specialist, shares some tips for how to approach your headaches holistically, if it's something you're interested in exploring. Keep in mind, not all of these solutions will necessarily work for you, and in fact, you might find, over time, that your headaches are debilitating to the point of needing a prescribed medicine from your doctor. But if medications have failed you in the past, or you're simply looking for a more natural approach to dealing with the occasional headache, here are a few holistic remedies to consider.